In Italo Calvino's novel Invisible Cities, Marco Polo and Kublai Khan are sitting comfortably, the former regaling the latter with descriptions of the impossible places he has visited. Khan asks Polo where he goes on these voyages and why; are these "journeys to relive your past," or "journeys to recover your future?" Mongolia's nomadism is a sign of the past, but the transition to parliamentary democracy and a market economy shows a nation recovering its future. Bold Sandagdorj, chief economist at the Bank of Mongolia and holder of an MS from Michigan Tech in Applied Natural Resource Economics, is helping to build that vision of the future.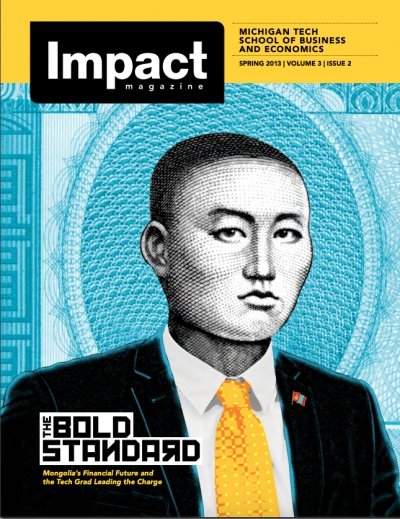 On the cover: Still a young alum, Bold Sandagdorj is helping plot the economic future of his native Mongolia.
---
Impact is published semi-annually by the School of Business and Economics and University Marketing and Communications at Michigan Technological University.
Dean: R. Eugene Klippel
SBE Marketing and Communications: Lynn Makela
UMC Executive Director: Linda Baker
Creative Director: Brandy Tichonoff
Art Director / Designer: Dustin Fletcher
Author: Kevin Hodur
Principal Photographer: Sarah Bird
Contributing Photographers: Angarag Davaasuren, James Dewhirst, Bold Sandagdorj
Please send correspondence to impact@mtu.edu.