At the Walter P. Chrysler Museum, gleaming cars, so shiny they almost don't look real, make for a colorful, metallic backdrop, a reminder of the power of engineering and technology. This has been the way of Detroit for decades.
Contemporary automakers integrate wireless technology and fuel efficiency instead of fins and chrome. Knowing what to put into a car and how consumers will respond is JoAnn Heck's job. She is the director of Consumer and Market Insights for Chrysler Group LLC, and a 1985 graduate of Michigan Tech with a degree in economics.
"We try to understand their pain points," she says of consumers. "Then our findings go to the engineering product planning teams who identify ways to meet those needs. People know what they want and need to function in life, and we have to figure out what tangible things might fill that gap, like a rear backup camera when they tell us they want to back up without hitting anything."
"...you can't engineer something without any regard to the customer or the financial end any more than you can ignore product development in favor of the bottom line."
While the look and feel of a car may get eyeballs, customers want to know what the vehicle can do for their lives. The minivan is a favorite example for JoAnn. "The minivan is all about interior space and flexibility and usability," she says. "We continue to hear about storage and loading flexibility. 'I want to be able to put 'x' in my minivan.' That's where stow-and-go seating came from, and consumers love it."
While necessity is frequently the mother of invention, weather can take a close second. It was a little over twenty-five years ago, a sunny, cold winter morning in Detroit. JoAnn, as a new employee at Chrysler working in the parts and service division, was just learning what it meant to be a good corporate employee.
"If you didn't drive a Chrysler brand vehicle, you had to park in this lot that was all the way on the other side of the campus," she says.
A few weeks later a major snowstorm hit, and the walk from the remote lot seemed a whole lot longer. "I bought a cherry red Dodge Shadow a few weeks later."
She pauses, remembering her first time behind the wheel. "That's when the fun began."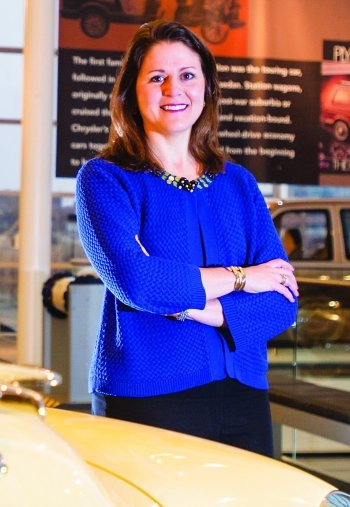 Today, JoAnn drives a brand new Jeep Grand Cherokee, the car that fits her and her family the best. "I'm pretty active and we need it for our lifestyle," she says. "And I love Jeep!"
JoAnn looks at how consumers relate to vehicles and how they pick what fits their needs. "Grounded or foundational elements are what people look for first," she says. "Durability, reliability, fuel economy, etc. Beyond that, what they consider goes to other rational and, more importantly, emotional needs. What fits my life? What does this vehicle say about me when I drive it? That's what differentiates and drives people from one vehicle to another."
JoAnne describes her Tech degree as "highly analytical, very strong, very quantitative." Her education in economics from Tech and master's in international business, melded with her knowledge of technology, has been a huge asset in her career. "That intersection is really critical. It doesn't mean everyone in the company needs to have both of these skills. But having both means you can understand the industrial and commercial sides of the coin. For instance, you can't engineer something without any regard to the customer or the financial end anymore than you can ignore product development in favor of the bottom line. Having a handle on both sides of that equation gives you a good handle of the overall business."
And a complicated business it is. "There's so much to the auto industry; it's rational, emotional; it's complex," she says. "Because of the complexity, it really helps if you have the ability to take in a lot of information and synthesize it at one time. You need the ability to multitask, to think of different aspects of whatever job you're doing."
JoAnn Heck feels like she makes a difference with her career, and she knows what skills helped her to get there. "Communication is going to go a long way for young people," she says, stressing each word. "Get involved, be well-rounded, learn to work with people. You have to learn to be able to function with different people one-on-one or on a team. Whatever varying experiences you can have through your college years, the better off you'll be in your career. And gut out a really good class or two to learn how to write, how to communicate in the business world." She recalls a business writing class in particular where the professor "pounded us on how to write succinctly, efficiently, effectively, saying we needed to be able to do that in our careers," she recalls. "He couldn't have been more right."
And for those about to make the transition from student to employee?
"They have to expect to work hard," she says, frankly, "to become engaged, to contribute. Go in with the attitude of being a life-long learner, valuing curiosity, recognizing that you're never going to know it all. There is always room for improvement; even when you're doing something well, there's room to do it better."
JoAnn even laughs when she recalls what she put down on a recent job posting: "You have to be curious as hell."
These days, JoAnn parks her Grand Cherokee closer to her office. She can reflect on a career spent melding business and technology, human and machine. "The two together, they're a perfect match."
Michigan Technological University is a public research university founded in 1885 in Houghton, Michigan, and is home to more than 7,000 students from 55 countries around the world. Consistently ranked among the best universities in the country for return on investment, Michigan's flagship technological university offers more than 120 undergraduate and graduate degree programs in science and technology, engineering, computing, forestry, business and economics, health professions, humanities, mathematics, social sciences, and the arts. The rural campus is situated just miles from Lake Superior in Michigan's Upper Peninsula, offering year-round opportunities for outdoor adventure.