Teaming Up for Greater Ventures

In an exciting new partnership with Central Michigan University (CMU), Michigan Tech is building crucial educational and industrial partnerships across the state of Michigan. The New Venture Competition, which challenges students to develop a full-fledged business plan, creates valuable networking opportunities for students, faculty, and the community.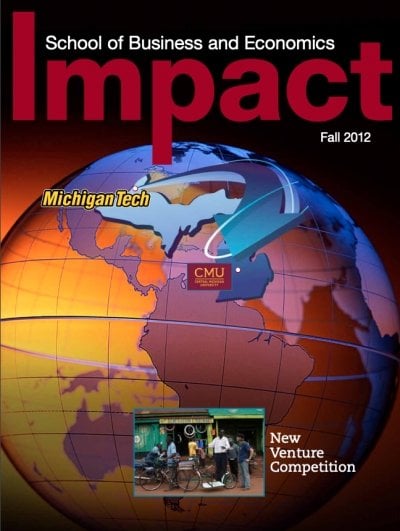 On the cover: Michigan Tech and Central Michigan combine forces in competition.
---
Impact is produced by Michigan Technological University's School of Business and Economics and University Marketing and Communications.
Dean: R. Eugene Klippel
Director of Marketing and Communications: Lynn Czarnecki Makela
Design: Bill Tembreull, University Marketing and Communications
Contributors: Erin Kauppila, Dennis Walikainen
Photography: Sarah Bird, Kayleigh White, Kurt Stepnitz
Please send correspondence to impact@mtu.edu.