In an exciting new partnership with Central Michigan University (CMU), Michigan Tech is building crucial educational and industrial partnerships across the state of Michigan.
The New Venture Competition, which challenges students to develop a full-fledged business plan, creates valuable networking opportunities for students, faculty, and the community.
The New Venture Competition began at CMU in 2010 as a way to encourage the entrepreneurial spirit of students. "The New Venture Competition was created to foster entrepreneurship throughout Michigan and provide resources and connections for students to develop an idea into a business," said Deb Zellner, executive director, CMU's Isabella Bank Institute for Entrepreneurship. In 2011, the directors invited Michigan Tech to join the competition, hoping to broaden its scope.
"These students will make Michigan a stronger and more vibrant place."
Jim Baker, the executive director of Innovation and Commercialization at Michigan Tech, was instrumental in building the partnership between the two schools. "It's the perfect pairing," he said. "CMU has a large business school and a number of business interests, and Michigan Tech has expertise in engineering, technology, and business. Together, we can create a wide range of collaborative educational and entrepreneurial opportunities for students."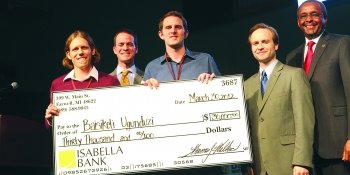 With both universities involved, the New Venture Competition grew to thirty teams. Over the course of a year, student teams from each school developed business plans for innovative businesses. The 2011–12 teams created a wide range of ideas. One proposed business, Picket Books, aimed to reduce textbook costs at Michigan Tech. A CMU team, Natural Resource Generation, designed an energy-harvesting floor tile able to harness mechanical energy wasted by humans. Another team tackled a large-scale problem by developing bicycle components that are designed to solve transportation problems and reduce costs for millions of people in sub-Saharan Africa.
"The teams presented a variety of creative ideas," said Zellner. "Working collaboratively to network, learn, and create business ventures between schools, these students will make Michigan a stronger and more vibrant place."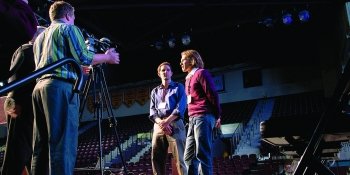 With a wealth of knowledge and creativity at both universities, the New Venture Competition encourages students to seek out team members who provide the necessary experience and knowledge to develop a complete, well-rounded business. Thomas Daunais, a Michigan Tech student, found his ideal counterparts across the state at CMU. After responding to a video request for an electrical engineer from several CMU students, Daunais became part of the New Venture Competition's first cross-university team. Once formed, the team used weekly Skype meetings to stay connected—a simple and powerful strategy that Daunais found to be highly effective.
"I feel that Michigan Tech students could greatly benefit from working with students from other universities," he said. "Every university has its own niche and its own way of going about solving problems. This was very apparent in my interaction with the team from Central. The combination of the different problem-solving techniques and ideas allowed my team to win the technology award in the competition."
Over time, the New Venture Competition program administrators would like to see more teams that include students from both universities. To facilitate CMU-Michigan Tech teams, the competition directors are developing a central information hub that will connect all participants. "The potential for collaboration is one of the most exciting things about a joint competition," said Baker. "The total sphere of possible experts is much larger, so each business is built by team members with complementary strengths."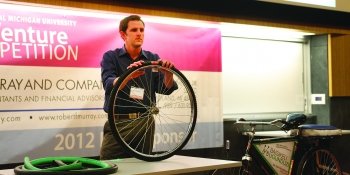 According to Baker, Michigan Tech students also benefit from the access to experts and audiences outside of Houghton. "For new businesses, most customers will be outside of the Upper Peninsula," he said. "The New Venture Competition offers opportunities for increased exposure and connection to professional and research networks outside the area."
The New Venture Competition culminates in a competition day, which takes place on the CMU campus. During the competition, finalists present their business ideas and compete for more than $60,000 in awards and in-kind service.
Ben Mitchell, a member of the first-place team, praised CMU for its organizational efforts. "They did a tremendous job coordinating the whole event, with all the judges and student teams," he said. "It was very well orchestrated."
On the heels of 2012's successful competition, CMU and Michigan Tech hope to continue to grow the program, potentially including additional schools and generating more start-up ventures.
Michigan Technological University is a public research university founded in 1885 in Houghton, Michigan, and is home to more than 7,000 students from 55 countries around the world. Consistently ranked among the best universities in the country for return on investment, Michigan's flagship technological university offers more than 120 undergraduate and graduate degree programs in science and technology, engineering, computing, forestry, business and economics, health professions, humanities, mathematics, social sciences, and the arts. The rural campus is situated just miles from Lake Superior in Michigan's Upper Peninsula, offering year-round opportunities for outdoor adventure.