iOMe and APMP make their mark.
Students Tackle Savings Rate Crisis in iOMe Competitions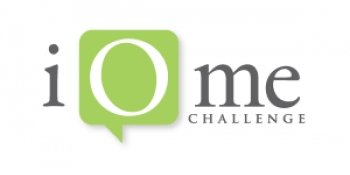 As part of two national iOMe competitions, students in the School of Business and Economics were challenged to tackle growing financial concerns about retirement savings for their generation.
iOMe ("I owe me") is a national competition in which students evaluate the growing debt crisis and produce videos to educate other millennials about the US savings rate.
Members of Senior Lecturer Emanuel Oliveira's macroeconomic theory and banking and financial institutions courses participated in the 2011 and 2012 iOMe competitions that uphold the premise that, as individuals, we owe ourselves a brighter future. Thus, the concept of iOMe was born. For the past two competitions, students formed their own teams and included individuals with a range of skills, from policy expertise to video production.
In 2011, the students submitted a comprehensive essay and accompanying video about ways to foster personal savings in the US. They proposed detailed plans that create incentives and remove barriers to financial savings for the millennial generation. Teams were required to include credible supporting research and provide evidence that their proposals would succeed.
During the first part of the competition, one of the Michigan Tech teams received an honorable mention, which included a $2,000 prize. The team members were Katie O'Connell (economics), Adam Stigers (economics), Tianlu Shen (environmental engineering), Teddy Broe (economics), and Walker Derby (finance).
Oliveira commended the teams for their hard work. "The students put together an excellent essay that contained innovative policy recommendations, considerable statistical analysis, and it was very well written. Fixing the savings-rate crisis in America will take a highly concerted effort and will likely require people to make behavioral adjustments that may cause minor discomfort in order to promote a long-run sustainable savings scheme."
All four Michigan Tech teams made it into the top ten for the second portion of the competition: the iOMe Money Smart Week Video Contest '12. Teams submitted their videos for voting in early 2012.
Eli Karttunen, who participated in both competitions, noted the value of tackling real-world problems, "One day, the issues we face right now will be corrected through innovative thinking and proactive policy formation."
Get more information about iOMe.
APMP Continues Stellar Record at RISE Competition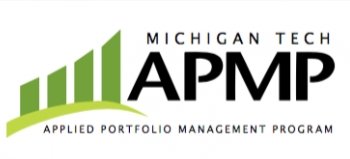 The Applied Portfolio Management Program (APMP) teams have continued their record of excellence in the investment portfolio competition for the Redefining Investment Strategy Education (RISE) forum. In 2012, Michigan Tech's Black team placed third in the value investment category. In 2011, the Gold and Black teams took third place in the value investment category and fourth place in the balanced investment category. The RISE forum is widely regarded as the most prestigious student investment forum in the world.
In the year leading up to the RISE forum, universities with student- managed portfolios compete against one another in the areas of growth, value, blend, balanced, alternative, and fixed-income styles of management. The top-performing teams in each investment category are determined by twelve-month, risk-adjusted returns. At the end of the year, the Michigan Tech teams travel to the University of Dayton for an educational workshop and announcement of winners in the yearlong competition.
In addition to the competition, students can network with top investment professionals. They participate in panels with Wall Street experts to discuss the economy, domestic equities, alternative investments, and international and emerging markets. Other activities include specialized investment sessions and skill-enhancement workshops in security analysis, portfolio construction, risk management, and trading simulations.
The RISE competition draws more than 1,500 students, faculty, and professionals from around the world. Eleven APMP students represented Michigan Tech at the 2012 competition: Jacob Carlson, Zhouli Yuan, Gengyang Pan, Jacob Vehring, Mengjiao Zhou, Wei He, Yihong Yao, Simin Chen, Annette Felton, Nathan Johnson, and Jessica Pakonen.
The APMP teams manage more than $1.3 million in the equity and fixed-income markets. The fund is supported by donations from alumni and friends, and investment revenues support student travel and scholarships. Established in 1998, APMP teams have placed first at the RISE forum in the value category three times.
Learn more about the APMP team.
Michigan Technological University is a public research university founded in 1885 in Houghton, Michigan, and is home to more than 7,000 students from 55 countries around the world. Consistently ranked among the best universities in the country for return on investment, Michigan's flagship technological university offers more than 120 undergraduate and graduate degree programs in science and technology, engineering, computing, forestry, business and economics, health professions, humanities, mathematics, social sciences, and the arts. The rural campus is situated just miles from Lake Superior in Michigan's Upper Peninsula, offering year-round opportunities for outdoor adventure.