Don't wait. Launch your business as a Husky today.
Really Smart Art
Crazy smart is blending business and art—like engineering management student Amanda Vermeer has with her startup UP Ukes, which offers hand-painted ukuleles.
I first started my ukulele painting business back in 2016 kind of by accident. I went to Ghana as part of the Pavlis Honors College, and bought an extra ukulele in preparation for the trip. Music is a huge part of my life and I didn't want to be without an instrument for seven weeks while I was abroad. Per my creative usual, I ended up painting the silhouette of the UP backdropped by the Northern Lights over Lake Superior on it before I left. I posted a picture online—and it blew up! People started messaging me wanting to know where they could get one, and I started taking commissions. I think I only sold three or four that first year, but it was enough to get me started. I stumbled into this niche by accident, but it's the best thing that could have happened.

I named my business UP Ukes after that first design.

Since then I've painted more than 20 ukuleles, a few for myself, but mostly commissions—everything from Michigan-inspired landscapes to the Portage Lake Lift Bridge to dinosaurs to (my personal favorite) a cat parody of Michelangelo's 'The Creation of Adam'. I've developed a great relationship with Good Times Music in downtown Houghton; I buy all of my new ukuleles for commission from the owner and he lets me display a finished uke or two for sale in his shop. I've also recently started designing ukulele-themed stickers and opened an Etsy shop.

My main goal for my business is to expand to a point where I can create full time and earn the majority of my living from that. I have really supportive friends and family; my mom and aunt have been especially
encouraging, and I've been learning a lot about business and marketing from my professors. Social media has been a major tool for me as well, so I'm also hoping to take a class or two on improving small business
promotions. I'm excited to see where I can take UP Ukes in the future!
---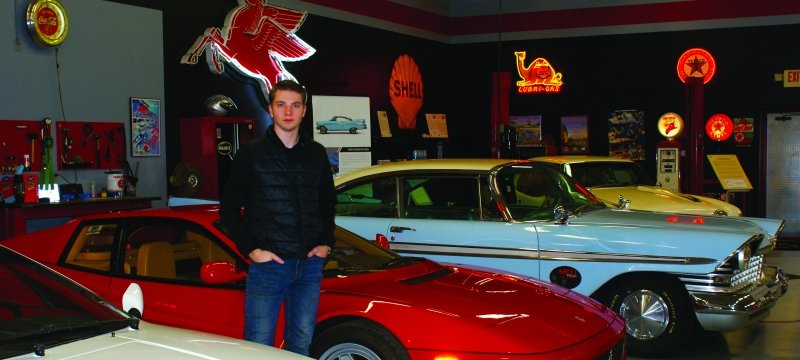 For the Love of [Fast] Cars
Nathan Sodini's passion for engines—combined with his experience on campus—is proving profitable.
It began with my new job at a local country club as a bag attendant/tennis instructor and my very first set of wheels, a 1998 Eddie Bauer Ford Expedition. Not a very glamorous ride for a teen to roll into the club. Little did I know that it would be the catalyst for my future business. That Expedition was a target of many jokes and great banter with the club members, who were accustomed to fancy cars of all makes and models. Soon, my friendships, networking, and passion for vehicles led me to additional work detailing some of the most valuable car collections in the Traverse City area.
This was the start of my business, Sodini Automobili. The work has spidered out to include valet service, assisting with auto storage and shipment of classic and luxury vehicles, and most recently—car brokering.
My favorite business perk is working the Porsche Michigan Drivers School at Grattan Raceway every spring.
This summer took a turn when I was offered my first internship at General Motors as a production group leader at the Flint Truck Assembly Plant. It has been awesome to be part of the launch of the new 2020 trucks. This has given me time to spend branding Sodini Automobili, researching various new markets, and working to create an umbrella of services. My weekends are still busy detailing. In the future . . . who knows?
Michigan Technological University is a public research university founded in 1885 in Houghton, Michigan, and is home to more than 7,000 students from 55 countries around the world. Consistently ranked among the best universities in the country for return on investment, Michigan's flagship technological university offers more than 120 undergraduate and graduate degree programs in science and technology, engineering, computing, forestry, business and economics, health professions, humanities, mathematics, social sciences, and the arts. The rural campus is situated just miles from Lake Superior in Michigan's Upper Peninsula, offering year-round opportunities for outdoor adventure.