News and Notes

Sam Tidwell Outstanding Man and Woman in Business
A long-standing tradition for Michigan Tech's School of Business and Economics is to select two deserving candidates for the Sam Tidwell Outstanding Man and Woman in Business. For the first time in history, this year's candidates have much more in common than academic accolades.
The 2015 Outstanding Man in Business, Heath Johnson, and Outstanding Woman in Business, Rebeka Horsch, grew up together in Houghton, living directly across the street from one another. Both graduated from Houghton High School, one year apart.
The Sam Tidwell Outstanding Man and Woman in Business awards are given annually to students – one female and one male – who exemplify the mission of the School of Business and Economics. Candidates are chosen by the Undergraduate Scholarship Committee and undergo an intensive interview process for the award.
Rebeka, Beka for short, is always on the go, volunteering on and off campus. She keeps busy as an Alpha Gamma Delta sorority sister, secretary of Michigan Tech's Panhellenic Council and member of the Order of Omega leadership honor society. She coaches youth participants of the Copper Country Skating Academy, and is a member of Michigan Tech's Figure Skating Club. She is a participant of LeaderShape and served as orientation team leader. Rebeka graduates in December with a Bachelor of Science degree with a major in Business Management, minor in Psychology and a concentration in Entrepreneurship. Her career goal is a human resources position in industrial organizational psychology. Achieving a master's degree is at the top of her bucket list. "I never expected that I'd step outside my comfort zone as much as I have in these last four years," she said. "Receiving this award is really amazing."
Heath Johnson takes full advantage of the academic opportunities at Michigan Tech. The fourth-year finance major graduates in December, and will then pursue a master's in accounting. Heath has made significant contributions to campus organizations, serving as president of the Finance Club and participating in the Applied Portfolio Management Program (APMP). Along with peers, he traveled to the Federal Reserve and leading investment firms in and around Chicago. He also participated in Michigan Tech's SURF (Summer Undergraduate Research Fellowship) program. Heath said he's honored to be selected as Outstanding Man in Business, noting "there are a lot of really strong candidates so this is really special."

Students make a splash at THE Project 2015 competition for improving affordability of higher education project
For the fourth consecutive year, School of Business and Economics students celebrated a second-place win at THE Project's 2015 competition in Grand Rapids in April. This year's competition challenged students to create deliverables that reduce the cost of higher education in Michigan. With guidance from Dana Johnson, professor of operations and supply chain management, students spend two semesters preparing final presentations while gaining a deeper knowledge of the principals of project management. THE Project offers students practical exposure while sharpening their public speaking, teamwork, leadership, and communication skills.
VITA shines at Michigan Tech's Student Leadership Awards Ceremony for organization's continued success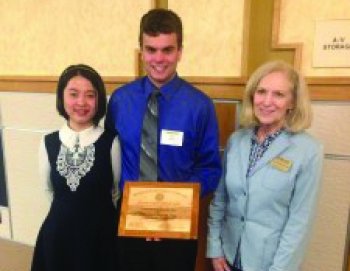 Michigan Tech's Volunteer Income Tax Assistance (VITA) program received top honors at the 21st annual Student Leadership Awards ceremony in April. Powered by faculty and accounting majors in the School of Business and Economics, VITA was designated Exceptional Program of the Year. VITA provides professional income-tax preparation assistance for students and low-income families in the community, free of charge. Co-sponsored by the Internal Revenue Service and Michigan Tech, VITA has been a valuable academic experience on campus for more than 20 years.
APMP gives students a $1.5M lesson in real financial investing
It's been an exciting year for Applied Portfolio Management Program (APMP) seniors Joel Florek, Yi Yuan, and Yinan Chen. In March, the group traveled to Detroit for the ENGANGE International Investment Education Symposium. ENGAGE draws as many as 2,000 professional investors, college professors, and students. Top financial organizations like Federal Reserve Bank of Atlanta President and CEO Dennis P. Lockhart and Charles Schwab and Co. Chief Global Strategist Jeffrey Kleintop hosted a series of question and answer discussions.
ENGAGE helps students apply classroom curriculum with real-world career experiences. For the second year in a row, the School of Business and Economics' APMP team won the Global Asset Management Education (GAME) Forum V in New York City. Three APMP students - Cory Sullivan, Heath Johnson, and Derek Menard - were up against 1,200-plus students from around the world. Sullivan participated in a NASDAQ closing, and along with his team, was treated to advice from some of the industry's most successful professionals.
Michigan Technological University is a public research university founded in 1885 in Houghton, Michigan, and is home to more than 7,000 students from 55 countries around the world. Consistently ranked among the best universities in the country for return on investment, Michigan's flagship technological university offers more than 120 undergraduate and graduate degree programs in science and technology, engineering, computing, forestry, business and economics, health professions, humanities, mathematics, social sciences, and the arts. The rural campus is situated just miles from Lake Superior in Michigan's Upper Peninsula, offering year-round opportunities for outdoor adventure.