Roger Woods exposes his Operations Management students to real-world, real-time manufacturing challenges.
Students in Roger Woods's operations management course were stunned when they realized they were standing on an actual hardwood basketball court for the 2015 NBA All-Star Game, at Horner Sports Flooring. Woods, senior lecturer in operations management, told his students, "In two weeks you're going to turn on the TV and see this exact floor, made here in Dollar Bay, just miles from campus."
The students were visiting Horner as part of an educational initiative Woods developed to connect real-world experience with business-school concepts. During the school year, he showed his students business in action at three unique companies in the Upper Peninsula. In addition to Horner Flooring, they visited Keweenaw Brewing Company (KBC) and U.P. Health System–Portage Rehab and Sports Medicine.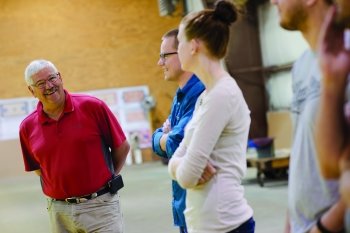 The field trips were part of a curriculum Woods calls Observations and Operations Management. Students were instructed to write about how those visits exemplified six elements of operations management they'd read about in the news or experienced in the past, and then relate those observations to broader classroom concepts. Woods knows that personal experiences have the most impact. "Operations management covers a broad spectrum, everything from strategy to scheduling to capacity planning. From my own experience, I knew it would help if they could see these concepts in action."
At Horner Flooring, Vice President Mark Young offered a lesson in overcoming challenges in supply-chain management. He explained how a tsunami in the Philippines affected the shipment of a floor bound for Asia. The company had to re-route the shipment so it would depart from the East Coast of the U.S. and travel through the Panama Canal, not its normal route. It was an example of environmental scanning: observing what's happening in the environment for things that can affect business decisions. "It was an eye-opener for them and gave them a lot to think about," Woods says. "Students made connections from their Horner Flooring visit when they discussed other topics."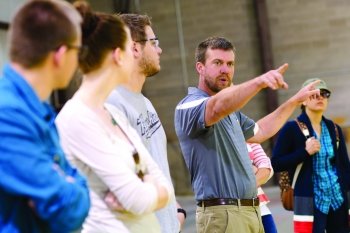 In mid-March, the students visited KBC's brewing plant. Before the tour, Woods shared research conducted by graduate students concerning process flow and manufacturing bottlenecks at a brewery in Arizona. When the students arrived at KBC, they were ready to ask the right questions. "We had also talked about inventory," Woods says. "When we got to KBC, they were at the tail end of their inventory process, so the timing was perfect. The students saw so many things that tied into what they're learning."
The final trip gave students a completely different perspective. Woods wanted them to experience the challenges of running a business where people are the product. At Portage Rehab and Sports Medicine, scheduling staff is a significant problem. The students saw how the facility has to adjust scheduling to accommodate the patients they serve.
"You always have to account for variable change and the unexpected," Woods explained to students. "Not all things can be scheduled, and flexibility is critical." A walk-in clinic might have a first-come, first-serve policy, he explains, but an emergency room prioritizes based on the severity of a patient's condition.
"This course taught me to look at how each department interacts with and impacts the other," accounting and finance major Nyomie Olson says. "It was important to see all the stages of a product or service to understand how each department interacts. I learned to see the big picture."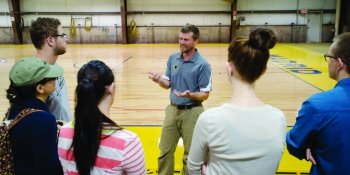 Woods will continue to reach out to local businesses. "I like to cultivate real-world, hands-on learning opportunities for the students. I want professionals to invite students into their everyday environment and describe their real-world experience. This is all about learning by seeing."
"The field trips were more beneficial than a lecture-style course," Olson explains. "By combining field trips with the lectures, we were able to do group work, solve problems, conduct research, and relate real-world examples to our learning. It was completely hands-on."
Woods' initiative ties into Tech's interest in promoting entrepreneurism. "The places we visited were real businesses," he says. "The students got to witness the reality of being an entrepreneur in a small business, with all the challenges and benefits. And they did it right here in Houghton."
Michigan Technological University is a public research university founded in 1885 in Houghton, Michigan, and is home to more than 7,000 students from 55 countries around the world. Consistently ranked among the best universities in the country for return on investment, Michigan's flagship technological university offers more than 120 undergraduate and graduate degree programs in science and technology, engineering, computing, forestry, business and economics, health professions, humanities, mathematics, social sciences, and the arts. The rural campus is situated just miles from Lake Superior in Michigan's Upper Peninsula, offering year-round opportunities for outdoor adventure.