Lieutenant Colonel Benjamin P. Zuniga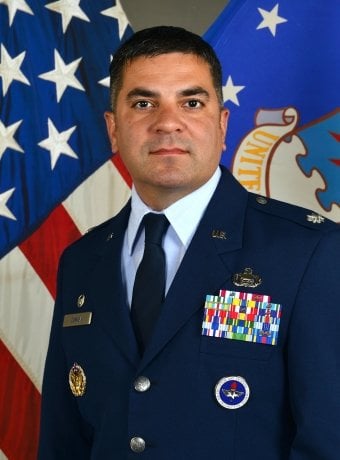 Contact
906-487-2652
AFROTC/DET 400, ROTC Building 4
Detachment Commander
Professor of Aerospace Studies
BA, Geography & Italian, University of Arizona
MS, International Relations, Troy University
Biography
Lt Col Benjamin P. Zuniga is Commander, AFROTC Detachment 400, Michigan Technological University, Houghton, Michigan. He leads a multi-AFSC staff of instructors and enlisted specialists to train and educate over 60 student cadets at the university. He also conducts personal, professional and academic mentoring for cadre and cadets, building future leaders for the Department of the Air Force.
Lt Col Zuniga is a graduate of the University of Arizona where he earned his commission through the Air Force Reserve Officer Training Corps in 2004. His degree of study was in Geography and Italian, with minors in Molecular & Cellular Biology and Geographical Information Systems.
Prior to his current position, Lt Col Zuniga was the Branch Chief, Intelligence, Surveillance and Reconnaissance Strategy and Plans, United States Africa Command, Stuttgart, Germany. There he led strategic collection planning, force allocation and operational assessments for the Africa theater.
Lt Col Zuniga previously served as an intelligence officer in a variety of Air Force assignments in Japan, Australia, Qatar, the US and the Republic of Korea. As the Chief of Air and Air Defense Analysis for United States Forces Korea, he led the reporting of critical intelligence to U.S. and multi-national senior leaders. As the Senior Intelligence Officer for the U.S. Air Force Expeditionary Center in New Jersey, he led formal intelligence training for over 1100 joint service and civilian members annually. As Deputy Director of Intelligence at the Combined Air Operations Center in Qatar, Lt Col Zuniga supported multinational air combat operations across the U.S. Central Command theater as well as direct engagements with international partners in Jordan, Qatar, Saudi Arabia and the UAE.