Doctoral student Munkaila Musah on exploring new opportunities provided by cross-laminating wood for mass timber construction.
The importance of forests cannot be over emphasized. The forest provides habitat for wildlife, stores carbon, cleans the air, filters water for drinking, offers valuable resources for a thriving timber products industry, and beautifies outdoor spaces for a variety of outdoor recreational activities. We must employ both traditional ecological knowledge and scientific approaches to ensure its proper utilization, reduce waste and maximize applications.
We should not take the forest for granted; people hunt, fish, hike and bike across the forest areas, relieving boredom, creating a relaxing atmosphere and enjoyable moments, not to mention forests' medicinal importance or food production. I urge you to get involved in your own small ways, whether you are a student, woodland owner, logger, from the government or a researcher to sustain the forest.
Sustaining the forest, wood production and enhancing community development nourishes local economies with resourceful and accountable production in the use, re-use and recycling of forest biomaterial. Assessing forests in United State indicated that Michigan is one of the most well-endowed with forested areas—20 million of its 36 million acres are forest lands.
Taking advantage of these forests in light of some of the latest advancements in biomaterials has and continues to revolutionize the forest industry and provide comfort for the citizenry. The popularity of Michigan's northern hardwoods presents the opportunity of enhancing biomaterials beginning from wood-based products, wood innovations and using cross-laminated timbers (CLT).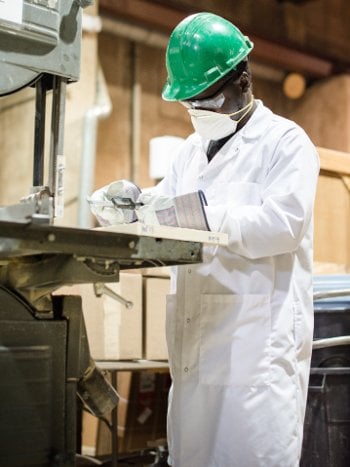 This is a call of a opportunity for Michiganders to collectively innovate, construct and recycle for the betterment of the state. My current research under the supervision of Dr. Xinfeng Xie, is funded and supported by the U.S. Department of Agriculture and the Forest Product Laboratory (FPL) hardwood cross lamination. The aim is to analyze the effects of both hardwood and softwood density, and the anatomic features associated to bond strength, durability and dimensional stability based on the linear thickness swelling of the samples exposed to wetting/re-drying cycles to mimic the effect of bulk water on CLT. This study will provide key baseline technical data on adhesion properties for using hardwoods in CLT products.
CLT offers the structural simplicity needed for cost-effective buildings, as well as benefits such as fast installation, reduced waste, improved thermal performance and design versatility. CLT has proven useful in wide range of applications such as mid-rise, urban infill, industrial, educational and civic structures. Using wood recycling like the organic substance rich in lignin from the paper mills industry should be promoted. This lignin as a base for carbon fiber has proven not only light but also a cheap replacement for metal and plastic in the car manufacturing business.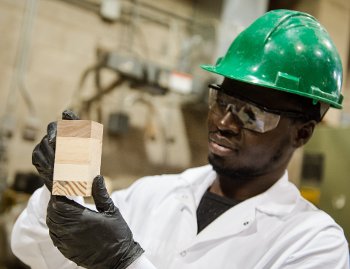 These initiatives were pioneered and nurtured at Michigan Tech, prompting the creation of the Michigan Tech Biomaterial Initiative, providing stimulating new ways to build on the sustainable resources of the state. I care about CLT because it does not waste wood and is environmental friendly. International Building Code, 2015; based on ANSI/APA PRG-320 standard has endorsed wood's safety and structural performance capabilities and allow its use in a wide range of building types. Life cycle assessment compared to concrete and other building materials in the construction industry has established that, CLT buildings have less environmental impact regarding Green House Gas (GHG) emission and energy demand.
Michigan Technological University is a public research university founded in 1885 in Houghton, Michigan, and is home to more than 7,000 students from 55 countries around the world. Consistently ranked among the best universities in the country for return on investment, Michigan's flagship technological university offers more than 120 undergraduate and graduate degree programs in science and technology, engineering, computing, forestry, business and economics, health professions, humanities, mathematics, social sciences, and the arts. The rural campus is situated just miles from Lake Superior in Michigan's Upper Peninsula, offering year-round opportunities for outdoor adventure.