Tall, fast-growing, pollution and disease-resistant, with early and long-lasting leaves—this special elm cultivar is the ideal park tree.
The Original
Within New York's heart, a tall tree once grew in Central Park.
Planted in the 1870s, the Ulmus parvifolia sapling was supposedly a gift from the King of Prussia. The Chinese elm's leafy crown, one of the first to unfurl in spring, grew to 60 feet and every fall it remained a deep green well after its neighbors yellowed and lost their leaves. Not even New York's pollution discolored the tree's leaves and it stayed green even as Dutch elm disease decimated iconic tree-lined streets and parks across the country. Along the way, the cultivar earned the name "Central Park Splendor."
Hollowed in old age, park officials removed the tree in 1993. But its legacy lives on in a Michigan Technological University lab.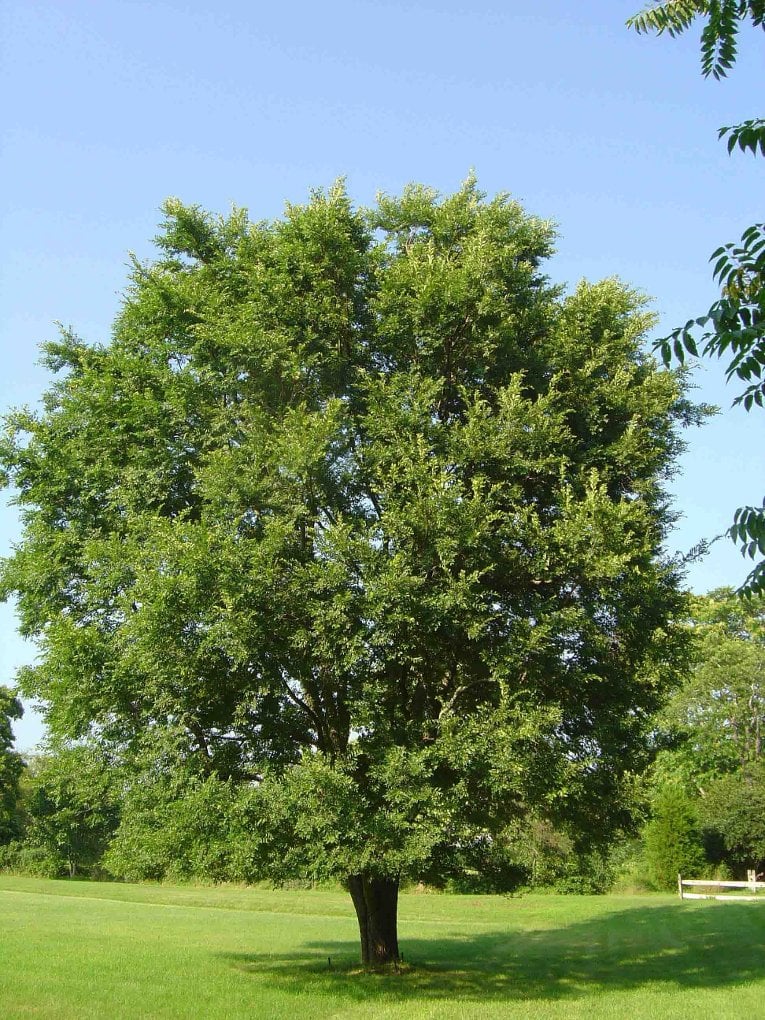 With support from the J&AR Foundation, Ramesh Thakur, a research scientist in the School of Forest Resources and Environmental Sciences, cultivates Chinese elms. He is continuing the decades of work pursued by David Karnosky, a former professor of forestry at Michigan Tech who passed away in 2008. The saplings he cultivated all come from the original Central Park tree.
Now, thousands of the cultivar—known as the "A/Ross Central Park" Chinese elm—grow in New York City parks and private lands, and Karnosky brought 150 of them back to China in 2002. Thakur is pushing the cultivar's cold hardiness in Michigan and grows the saplings in the university greenhouse.
Cultivating Cultivars
There are two main ways Thakur and his team grow a tree: cuttings and tissue culture.
"What we standardize in our lab is propagating with leafy cuttings, which have turned out to be quite reliable," Thakur says. "Tissue culture is important, though, if we want to distribute the trees internationally because we grow these in an artificial medium that are disease-free."
Thakur jokes that tissue culture trees are "test tube trees," but says that keeping the growth medium clean and clear is essential. Each shoot—not quite a full sapling yet—grows in a mix of nutrients, growth hormones and jelly-like agar. Grow lights and a warm, clean growth chamber with a sealed door keep them separate from the outside world of Emerald Ash Borer beetles and Dutch elm disease.
Leafy cuttings are more straightforward; it's similar to how your grandmother might have transplanted a lilac bush. But unlike grandmotherly methods—just think of the variations in chocolate chip cookie recipes in this world—Thakur's lab needed to streamline their process to consistently and efficiently grow similar crops of trees with the same features every year.
In addition to growing trees from twigs, Thakur also developed a micropropagation technique that uses less woody material to start. For fun, he says, some of the students he works with have tried growing bonsai and floating bonsai specimens. The key to any of these techniques is soaking the base of the cutting in a growth hormone to encourage root growth.
Thakur himself got interested in trees and agriculture as a child growing up in a farm family. He says he always knew he wanted to go on and study trees.
"I lived in nature and I love nature, so trees are just part of me."
Plantlets
The propagation process takes about six months and can vary based on the shoot treatments. The small shoots turn more into plantlets, almost like a toddler growing into a kid. And like the first day of kindergarten, the next stage of their life can be a bit shocking.
"We have to harden off the plants," Thakur says, explaining that this means introducing the plantlets to the main greenhouse and later the outside world with all its breezes, bugs, variable sunshine, lower humidity and fluctuating temperatures. "These plants are initially grown in artificial conditions—they're very delicate—and properly hardening them off takes a couple months."
Once the plantlets graduate the first few grades of outdoor weather then they're ready to move on to the nursery. Thakur specially packages them and sends them on to the Arthur Ross nursery in New York.
"Near our home in East Hampton, New York, six Central Park Splendor were planted within walking distance of the ocean in park-like settings," says Janet Ross, who now leads the work her husband started, adding that the trees are quite handsome. Even though some succumbed to ice and hurricanes, she remains hopeful. "I feel very positive about the future of this enterprise."
Her late husband, Arthur Ross, shared that enthusiasm. In an interview from 2005, he recounts what inspired him about the Chinese Elm in Central Park: its immunity to Dutch Elm Disease and its royal heritage.
"And I said to myself, if the King of Prussia gave that to the city, it must be a very unique and unusual gift," Ross says, "carrying within his own power to give us almost anything."
Ross, in turn, wanted to grant his own gift, a solution for the bare streets and parks across the US. He recognized how long it would take to bring a tree-growing initiative to fruition, but the decades of work did not dampen his commitment.
"A tree is not like a flower bed. It takes a while to develop, so we hope to be moving these around the country in due course."
Northbound Botany
Thakur also wants everyone to enjoy a Chinese elm in their park or backyard and says the plant is adaptive enough to grow almost anywhere.
"It has a very broad range, it grows all the way from northern Mexico up to Massachusetts and southern New York," Thakur says. "It even grows outside of our greenhouse! It's hardy enough to survive the Keweenaw so far."
Thakur runs several Michigan cold hardiness trials in Kalamazoo and Houghton, which the plants seem to tolerate. The bigger challenge is snow-loading. Small trees drown in snowdrifts and the large, graceful spread of the adult elms' branches make a perfect snow catch that piles up and stresses the tree limbs.
Another challenge—as with all introduced species—is ensuring the beautiful park cultivar does not become invasive in natural wild areas. Fortunately, the Central Park Splendor does not appear to have any invasive tendencies and is content to grow alone without making a sapling army.
Between that, its iconic elm appearance, enduring leaves, and its disease- and pollution-resistance, the Chinese elm makes an ideal park tree. Perhaps one day, Ulmus parvifolia "A/Ross Central Park" will fill the boulevards left bare by Dutch elm disease.
"Trees are so important. Not just for the environment, but also for aesthetics, people love to be around trees."

Ramesh Thakur
Michigan Technological University is a public research university founded in 1885 in Houghton, Michigan, and is home to more than 7,000 students from 55 countries around the world. Consistently ranked among the best universities in the country for return on investment, Michigan's flagship technological university offers more than 120 undergraduate and graduate degree programs in science and technology, engineering, computing, forestry, business and economics, health professions, humanities, mathematics, social sciences, and the arts. The rural campus is situated just miles from Lake Superior in Michigan's Upper Peninsula, offering year-round opportunities for outdoor adventure.