Michigan Tech Student Bikes Cross-Country to Help Build Affordable Housing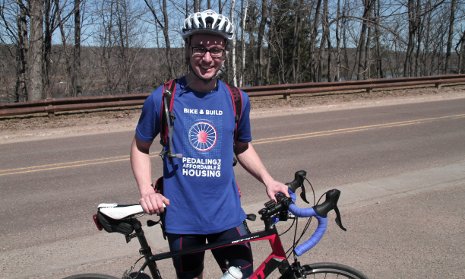 Rain pouring. Wind blowing. Sun blaring. All these weather conditions making it rough to be outside. Families without a home live with this, and so will Noah Kelly as he bikes to help build those families a place to live.
Kelly, originally from Saginaw, Mich., is a first year mechanical engineering student at Michigan Technological University. He plans on biking more than 4,000 miles this summer with the organization, Bike and Build, to help low-income families with their housing needs.
Bike and Build is "pedaling for affordable housing." The organization was founded by Marc Bush when he decided to build on a now-discontinued program called the Habitat Bicycle Challenge, organized by the Yale University chapter of Habitat for Humanity to benefit its local affiliate.
"We're of the mindset at Bike and Build that housing is a foundational need and fundamental right for all humans to move out of poverty. Without a home, a person or family struggles to gain a foothold in so many other aspects of life, like finding a job, eating nutritiously, living healthily, and educating children," says Matt Hartman, office coordinator for Bike & Build, Inc. "We're also of the mindset that young adults are a force in service; they bring an unmatched passion and energy for doing good." As the volunteers cycle across the country, they will be meeting new people, gaining an appreciation for the unique housing needs facing diverse communities and experiencing a sense of adventure and self-accomplishment that comes with biking across the country.
Over 250 young adults volunteer each year for Bike and Build, taking eight different cross-country trips that begin at various times and locations up and down the east coast and end roughly two and half months later at various locations up and down the west coast. Since Bike and Build began in 2003, young adults in this program have volunteered over 185,000 build hours and donated over $5.3 million to affordable housing organizations across the United States.
Kelly first heard about Bike and Build after his friend participated in it last summer. Although he has felt a lot of pressure to get an internship, Kelly felt that this could be a once-in-a-lifetime experience. "I think it's a really great program doing quality work," he says. "It was initially appealing because of the bike riding and pedaling for affordable housing."
Kelly describes his road biking experience as "not very much." But once he was accepted into the program last November, Kelly has been training for the rigorous travel this summer. At first, it was weight training and cross training. In January, Kelly got the bike he will be using, but the weather didn't permit outside training for quite a few months. So, he practiced on a stationary trainer inside Douglas Houghton Hall.
Biking isn't his only out-of-class activity. Kelly is currently involved with Michigan Tech's Habitat for Humanity and American Society of Mechanical Engineers. He holds down two campus jobs and is a future Resident Assistant for Michigan Tech Housing. After college, Kelly hopes to work in the bike manufacturing industry, especially after his experience training for this summer.
"His positive outlook, friendly demeanor and quality engineering skills will get him far – hopefully at least back home on his bike," says Brett Hamlin, a senior lecturer of Engineering Fundamentals and one of Kelly's professors.
Michigan Technological University is a public research university, home to more than 7,000 students from 54 countries. Founded in 1885, the University offers more than 120 undergraduate and graduate degree programs in science and technology, engineering, forestry, business and economics, health professions, humanities, mathematics, and social sciences. Our campus in Michigan's Upper Peninsula overlooks the Keweenaw Waterway and is just a few miles from Lake Superior.