Michigan Tech Board of Trustees Extends President Glenn Mroz's Contract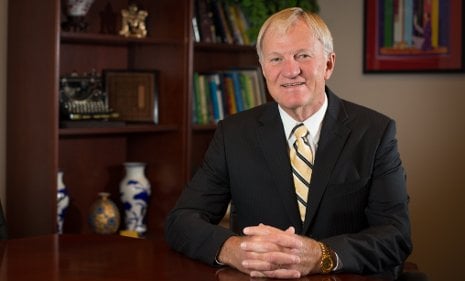 The Michigan Technological University Board of Trustees has extended President Glenn Mroz's contract through June 30, 2018. His current contract ends on June 30, 2016. The new contract can be renewed on a year-to-year basis.
The extension follows two years of benchmarking salaries against other universities designated "high research" by the Carnegie Foundation—as Michigan Tech is—and other Michigan universities. The presidential compensation study was conducted by Aon-Hewitt, a nationally recognized human resources consulting firm.
The new agreement raises Mroz's base salary from $315,000 to $344,000, bringing his base salary up to the lowest 25 percent of presidents at similar high-research universities. The agreement makes Mroz eligible to participate in the university's exemplary performance bonus program at the sole discretion of the Board, based on university progress on its recently approved strategic plan.
The new agreement also adds a housing and car allowance that AON found to be standard at most universities. The agreement includes the University's standard fringe benefit package as well as a $1.25 million life insurance policy while Mroz serves as President. The new agreement continues a provision from previous agreements for a post-presidential leave before returning to the classroom. President Mroz may also be eligible for a retention bonus of $50,000 per year if he completes the entire 3-year contract period.
"Michigan Tech has been benchmarking salary and total compensation of faculty and staff for many years and attempting to bring all salaries closer to the 50th percentile, said Board Chair Julie Fream. "However, this has not been true for the president's compensation. It was appropriate and timely for the Board to initiate a similar effort on behalf of the president.
"In the past, President Mroz consistently received salary increases equal to or less than what was budgeted for general fund faculty and staff," Fream noted. "While some of his previous salary increases were on par with the rest of campus, more often than not, his increases were lower than the average provided to faculty and staff. This put his compensation in the bottom 25 percent of high-research universities in the Aon-Hewitt study and the bottom 20 percent of public doctoral universities nationwide, according to College and University Professional Association for Human Resources (CUPA-HR) data.
"Financial times over the past 11 years have not been easy, and even though President Mroz's raise is well-deserved as the university has made substantial progress since he came into office, there were many times a better compensation package was not sought by the President, and sometimes he refused it," said Fream. "However, for competitive reasons, it is important that we strive to keep the compensation of our faculty and staff, including President Mroz, close to that of their peers."
Michigan Technological University is a public research university, home to more than 7,000 students from 54 countries. Founded in 1885, the University offers more than 120 undergraduate and graduate degree programs in science and technology, engineering, forestry, business and economics, health professions, humanities, mathematics, and social sciences. Our campus in Michigan's Upper Peninsula overlooks the Keweenaw Waterway and is just a few miles from Lake Superior.