Michigan Tech Students Compete in National Junior Curling Championships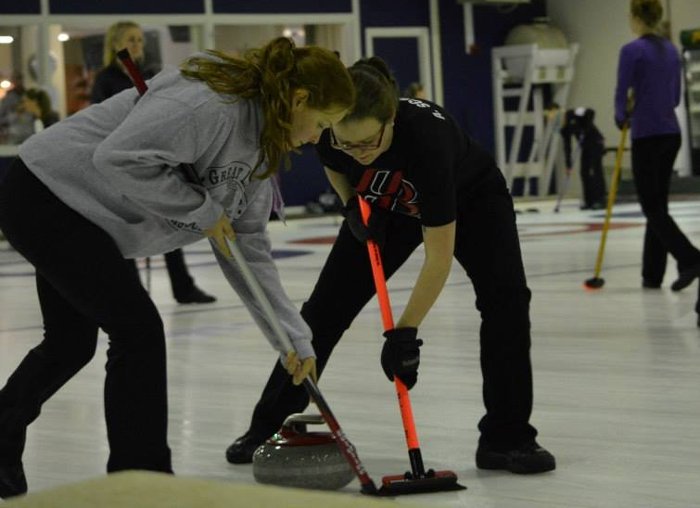 It has nothing to do with hair-dos or ribbons on gifts. Curling is a sport born in Scotland, bred in Canada and growing in popularity in the northern US. And three Michigan Tech students—Alexis Schroeder, Will Kent and Rob Shlimovitz—have gotten good enough at it to win their state championships and compete in the National Junior Curling Championships in Devil's Lake, N.D., last week.
Curling has a 500-year history but just made its Winter Olympics debut in 1998. It's a team sport in which players slide a heavy polished granite stone along a sheet of ice toward a target. The curler can slide the stone so that it turns, following a curving path, and two team members who use brooms to sweep the ice in front of the stone also influence its path.
Schroeder, Kent and Shlimovitz have been curling since they were children. In fact, in Shlimovitz's case, this is the 19-year-old's 15th season of curling. His father played in a curling league in their home town of Portage, Wis., and he would take his son to the curling club to watch the games. Little Rob soon wanted to try it himself, and he's been curling ever since.
"I love curling because it's both a physical and mentally demanding sport," says Shlimovitz, a first-year chemical engineering major.
Schroeder agrees. "I have never played any other sport that makes you use so much critical thinking," she says. "Curling has an enormous amount of strategy involved." A first-year student in electrical engineering, she has been curling since seventh grade, when her English teacher convinced her and some classmates to give it a try.
The other thing Schroeder loves about curling is that she gets to do it with her sister, Sidney, whom she calls her best friend. "Each curling team has four people on it, and half of my team is made up of the Schroeder sisters. I love getting to play the sport that I love with the person that I love the most."
Like Schroeder, Kent was skeptical at first, when a friend of his suggested he try curling. "I stepped out onto the ice for the first time, and I just fell in love with the game," he recalls. The friend who lured him to the rink quit after a couple of months, but Kent has been curling for six years now, as a member of the Midland, Mich., Curling Club and now of the Copper Country Curling Club in Calumet.
If football is a game of inches, "curling is a game of centimeters," says Kent, a first-year computer science student. "A quarter of an inch can determine whether you win or lose the game. Kent calls curling "the definition of a team sport. "You are involved with every shot of the game. Even though you may not be throwing the rock, you are either sweeping or directing the sweepers. Everything you do can have an effect on the overall shot."
All three curlers also love the friendships they've made and continue to make on the ice. "At the end of every game, whether you win or lose, you sit around with the other team and just talk. Generally you don't even talk about the game," says Shlimovitz. "it's called broomstacking, and it's a great way to create long-lasting bonds and friendships with people from other clubs. It's like we have our own little curling family." Kent agrees, saying that he expects most of the friendships he's made with the people he curls with or against to last the rest of his life.
Schroeder, Kent and Shlimovitz are on curling teams that won their state championships. Schroeder and Kent represented the Great Lakes Curling Association—Michigan, Ohio, Indiana, Kentucky and Tennessee—in the championships in North Dakota. Shlimovitz was on one of two teams from Wisconsin.
And how did they do? They didn't sweep the championships—although they certainly swept the ice—but they have nothing to be ashamed of. Schroeder and her team won five and lost four to end up the 6th best junior women's curling team in the country. Shlimovitz's team went 2-7 and finished in a tie for eighth, as did Kent's.
"This wasn't as good as we hoped to do, but we were in every game and were very competitive," Shlimovitz says. "We still had a good time," adds Kent.
Michigan Technological University is a public research university, home to more than 7,000 students from 54 countries. Founded in 1885, the University offers more than 120 undergraduate and graduate degree programs in science and technology, engineering, forestry, business and economics, health professions, humanities, mathematics, and social sciences. Our campus in Michigan's Upper Peninsula overlooks the Keweenaw Waterway and is just a few miles from Lake Superior.