Michigan Tech Moves Up in US News Undergraduate Rankings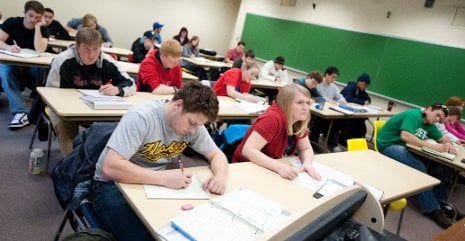 Once again, Michigan Technological University has moved up in the annual US News & World Report ranking of the best undergraduate colleges and universities, placing 56th—in the top third—of 170 public universities. Michigan Tech's undergraduate engineering programs ranked in the top half nationwide—73rd of 157 programs ranked.
Among 268 public and private national universities—a list topped by Princeton, Harvard and Yale—Michigan Tech ranked 116. The magazine defines national universities as ones that place an emphasis on faculty research and graduate studies. After evaluating more than 1,800 US universities, only 268 earned the "national university" designation, including Michigan Tech.
Tech also made the US News lists of "A-Plus Schools for B Student" and "Best Colleges for Veterans." The magazine defines an A-Plus School for B Students as academically strong schools where promising students with less than the highest grades and test scores can be admitted and thrive. Best Colleges for Veterans are nationally ranked schools that are members of the Servicemembers Opportunity Colleges Consortium and charge in-state tuition to out-of-state veterans.
It's always good to see rankings increase, and these are consistent with what we've seen recently in Money Magazine and other rankings," said President Glenn Mroz. "US News & World Report concentrates largely on factors like class size and entrance selectivity, while Money Magazine includes a measure of student placement that puts us in the top 12 percent. Nevertheless, being 56 among public universities in a country where every state in the union has a "flagship" institution indicates we are ranked with the best."
Best Colleges
Explaining the methodology of its overall undergraduate "Best Colleges" rankings, US News says that they use "quantitative measures that education experts have proposed as reliable indicators of academic quality, and our researched view of what matters in education." The magazine gathers data from each college on indicators of academic excellence such as class size, entrance exam results, graduation and retention rates, student-faculty ratio, financial aid and alumni support. They also survey each school's peers.
The US News undergraduate engineering program rankings are based solely on the judgments of deans and senior faculty at peer institutions, the magazine says. Engineering school deans and faculty members were surveyed in spring 2014 and asked to rate each program they were familiar with on a scale from 1 (marginal) to 5 (distinguished) for this ranking.
Michigan Technological University is a public research university, home to more than 7,000 students from 54 countries. Founded in 1885, the University offers more than 120 undergraduate and graduate degree programs in science and technology, engineering, forestry, business and economics, health professions, humanities, mathematics, and social sciences. Our campus in Michigan's Upper Peninsula overlooks the Keweenaw Waterway and is just a few miles from Lake Superior.