For the Love of Steam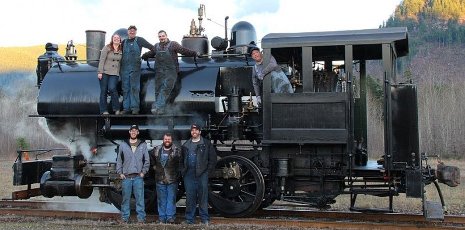 What would possess someone to purchase a 45-ton steam locomotive? For Stathi Pappas, it was the chance to own something he played on as a child.
So, in March 2009, the Michigan Technological University industrial archaeology alumnus purchased the Santa Cruz Portland Cement Company No. 2 Engine and began restoring it in his Mineral, Wash., shop.
In December of last year, "The Chiggen"--named after a Stockton, Calif., chicken restaurant that used the locomotive as a billboard for many years--pulled its first train in 50-plus years.
"It was totally worn out," Pappas says. "We rebuilt it using the same tools and equipment as they would have used in the 1940s, when it would have been last worked on."
That authenticity is important to Pappas, whether working on the 1909 engine ("124 one-inch rivets for the new firebox") or portraying it and its surroundings for the public.
"I was interested in the locomotive, of course, but I was also interested in the mind-set, the technology and the social order that created it," he says. "We've recreated a steam locomotive community, with six engines in service and more in the shop."
It's all part of the Mt. Rainier Scenic Railroad, "the longest continuously operating steam train railroad in the Pacific Northwest," according to its website. It's dedicated to the lumber trade from the turn of the last century and beyond. A true representation in this living history is important to Pappas.
"We aren't just restoring locomotives like people do with classic cars: brand new parts to make it look old," he says. "We use 1920s, or at the most modern, 1940s, techniques to rebuild. We want to replicate not just the artifact but the skill-set of the fix, including teaching the next generation how to do it."
As true living history, he says, they run them like they ran them, break them like they broke them, fix them like they fixed them, and repeat.
"From an anthropological standpoint, we want to understand that subculture and act accordingly," Pappas says. "It's a social movement as well as a professional rebuild."
They've secured some $900,000 in grants and have completed phase one of the community, which includes many different train cars, equipment and logging camp buildings—even a water tank—in addition to the locomotives, accurate to the western railroad logging camps of long ago.
The most popular part of the setup is the ride, of course, and the trains run from Elbe to a museum display at Mineral. That ridership is up.
"We call it 'edutainment.' We want the people to learn as they have fun," he says. "But we are only as good as the people around us who are doing the research, using the techniques and doing it properly."
So the industrial historian can add another title to his name: railroad engineer.
Michigan Technological University is a public research university, home to more than 7,000 students from 54 countries. Founded in 1885, the University offers more than 120 undergraduate and graduate degree programs in science and technology, engineering, forestry, business and economics, health professions, humanities, mathematics, and social sciences. Our campus in Michigan's Upper Peninsula overlooks the Keweenaw Waterway and is just a few miles from Lake Superior.