Meet Your New Neighbor: the Michigan Tech Police
By Danny Messinger | Published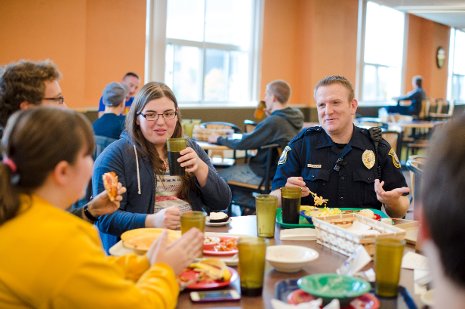 When most college students even think about the police, it's enough to make their heart beat just a little bit faster. Usually, though, they've only had negative encounters—perhaps over a speeding ticket or noise complaint. But that's exactly the stigma Michigan Technological University public safety officers aim to combat with their Residential Officer Program.
Reid DeVoge, public safety and police services officer, is working to build a strong link between Michigan Tech students, campus officers and law enforcement agents as a whole. For almost a year, DeVoge has lived on campus—first in Daniell Heights and then in McNair Hall—serving (and protecting) Tech students any way he can.
During the day, DeVoge holds office hours in Tech's largest residence hall, where he works one-on-one with residents and staff to break down negative notions of police presence and build positive perceptions.
"My work day starts off like a lot of peoples', I guess, with about thirty minutes of paperwork in the office," DeVoge says. "But then I hit the road. In the warm months, I bike right through campus on my patrols. Then I'll walk through the residence halls, and after, have dinner with residents in the dining hall."
DeVoge says he's already noticed an overall student attitude shift regarding police due to his increased--and informal--presence. During his office hours, he says three or four students stop in per day. Ninety percent of their questions and concerns are not even law-enforcement related.
"When I walk into the dining halls at lunch or dinner, there are usually multiple groups of students who actually invite me to join them," he says. "It's great being able to sit with anyone and make positive connections in such a casual setting. It's the complete opposite of how most people think of cops."
By night, DeVoge finds ways to bond with residence-hall dwellers in fun, low-key ways.
"Resident assistants in the halls can submit requests for Reid to stop by," says Kevin Erkkila, a third-year computer science student and resident assistant in Wadsworth Hall. "We can invite him to programs even if there's no message about Public Safety."
DeVoge is even able to poke fun at his own profession. He'll host "Donuts with DeVoge," where students grab a treat and chat with him about police questions, the weather or that chemistry exam everyone in the hall is buzzing about.
Erkkila says one of the most popular programming options DeVoge offers is a video game party where residents virtually race against each other while wearing "drunk goggles."
"We'll get students together and play Mario Kart with his goggles," says Erkkila. "It's really funny—and you obviously learn a lot about the dangers of drunk driving. It gets extremely high participation every time he does it."
Helping students learn how to navigate law-enforcement issues in a non-threatening way is one of DeVoge's chief goals. "Students come to Tech to get a degree—not an arrest record," he says. "I'm here to help students succeed."
Of course, the program was also established to meet quantitative goals, too.
Overall, with DeVoge bringing increased police presence and visibility on campus at University events, student conduct cases and the overall crime rate have dropped. Residential conduct cases decreased by almost 60 percent in the year following the introduction of the program. And 2012 saw a drop of 19 percent in reported crimes on campus.
"The whole point of the Residential Officer Program was to increase positive interactions between police and the campus community," DeVoge says. "We're building a rapport. First and foremost, I'm making sure the students are taken care of. But, I'm actually part of the community now, too."
As a student member of that community, Erkkila concurs. "Because of his age and his personality and his demeanor, he's really relatable for us. And if you need help, he's absolutely the one to ask."
Michigan Technological University is a public research university, home to more than 7,000 students from 54 countries. Founded in 1885, the University offers more than 120 undergraduate and graduate degree programs in science and technology, engineering, forestry, business and economics, health professions, humanities, mathematics, and social sciences. Our campus in Michigan's Upper Peninsula overlooks the Keweenaw Waterway and is just a few miles from Lake Superior.