Rastgaar Receives CAREER Award to Develop Ankle-Foot Prosthetic Robot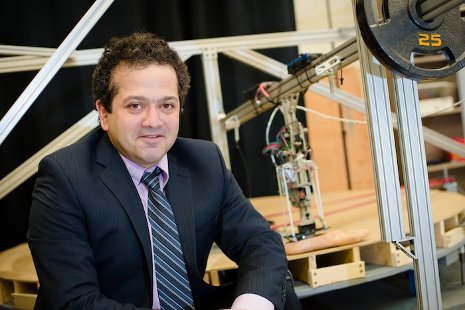 Mo Rastgaar has received a National Science Foundation grant of nearly $500,000 to make his new artificial limb design a reality.
With the five-year Faculty Early Career Development (CAREER) Award, Rastgaar, an assistant professor of mechanical engineering-engineering mechanics, will further develop his powered ankle-foot prosthesis: an artificial lower leg with the unique ability to restore amputees' mobility and agility.
The secret is in the ankle. The prosthetic joint is multi-axis, meaning it can move the foot from side to side as well as up and down.
"We use the ankle joint a lot to turn while we're walking," Rastgaar said. "We never walk straight for a very long time unless we are on a treadmill."
The prosthesis is robotic, with sensors on the bottom of the foot to detect how the amputee is walking. The sensors instantaneously send signals to a microprocessor, which in turn adjusts the prosthesis to make walking more natural. As part of an earlier study, his team designed and built a large circular treadmill on which their robotic foot "walks" in circles.
With the CAREER Award, Rastgaar will further study the dynamics of the human ankle and apply his findings to the prosthesis. Then, the improved design will be evaluated on amputees at the Mayo Clinic under the direction of Kenton R. Kaufman, director of the Biomechanics/Motion Analysis Laboratory.
Rastgaar's interest in artificial limbs began when he was a postdoc. "I wanted to conduct research at the interface of biomechanics and robotics," he said. "I learned about the importance of the human ankle at MIT, and when I came to Michigan Tech I focused on mimicking the ankle's dynamics in ankle-foot robots.
"I wanted to help people in a very direct way, and that's what we are doing," he added. "Eventually, I'd like to commercialize our prosthesis. It should be helping amputees walk."
Michigan Technological University is a public research university, home to more than 7,000 students from 54 countries. Founded in 1885, the University offers more than 120 undergraduate and graduate degree programs in science and technology, engineering, forestry, business and economics, health professions, humanities, mathematics, and social sciences. Our campus in Michigan's Upper Peninsula overlooks the Keweenaw Waterway and is just a few miles from Lake Superior.