Ancient Copper Spear Point in Special Exhibit at A. E. Seaman Mineral Museum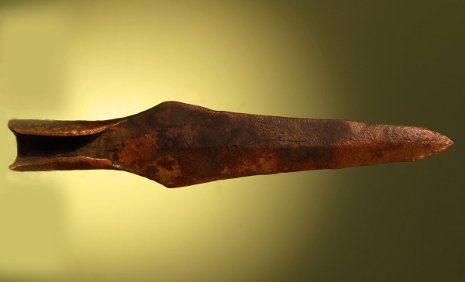 Two years ago, while wading in Portage Lake, Bobbie Dalquist found an ancient copper spear point partially buried in shallow water. As it turned out, Michigan Tech's manager of accounting information systems had stumbled upon a 4,000- to 6,000-year-old native artifact that was well preserved and in nearly useable condition.
It will be displayed at the A. E. Seaman Mineral Museum, on the campus of Michigan Technological University, through summer 2014, except between Dec. 12 and 16, adjacent to the museum's exhibit on the history of copper.
Native Americans who lived on the Keweenaw Peninsula long before the arrival of Europeans used the unique native copper of the region to fashion tools, weapons and jewelry.
"Because of its direct connection with the history of human use of the Keweenaw's greatest treasure—native copper—the spear point is worthy of exhibit in the museum," says Chris Stefano, associate curator. "This special exhibit is also consistent with the museum's status as a Keweenaw Heritage Site of the Keweenaw National Historical Park. The museum is grateful that Bobbie Dalquist is willing to share her find with the general public."
The spear point was also featured on Michigan's Archaeology Day 2013 poster and exhibited in East Lansing by the State Historic Preservation Office.
The A. E. Seaman Museum's hours are Monday through Saturday, 9 a.m. to 5 p.m., until Dec. 21. The museum is closed for the holidays and reopens Jan. 13. For more information, tjb@mtu.edu or 487-2572.
Michigan Technological University is a public research university, home to more than 7,000 students from 54 countries. Founded in 1885, the University offers more than 120 undergraduate and graduate degree programs in science and technology, engineering, forestry, business and economics, health professions, humanities, mathematics, and social sciences. Our campus in Michigan's Upper Peninsula overlooks the Keweenaw Waterway and is just a few miles from Lake Superior.