Heat Up the Forge, Examine the Crime Scene—Summer Youth Programs Explores College Life
By Danny Messinger | Published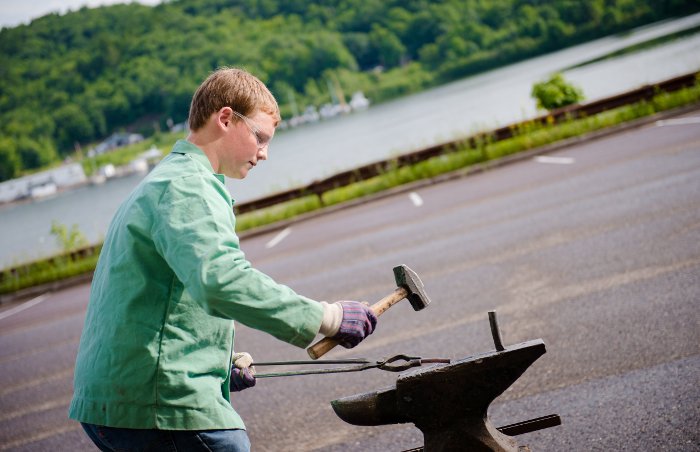 Don your safety glasses, slip on a spark-proof smock and fire up the furnace because students enrolled in Michigan Technological University's Summer Youth Programs (SYP) materials science exploration are eager to share what they've been up to in the blacksmithing shop.
SYP wraps up another year of hands-on career explorations and summer camps—right in the heart of the Michigan Tech campus—this week. Middle and high-school students come from around the Midwest and across the nation (students from 23 different states participated this year) to spend a week engaging in hands-on classes, living and eating in a residence hall, and getting a feel for campus life. Michigan Tech experts teach, and participants get to take part in experiments and projects in the University's labs and the surrounding area.
Exploration topics this year included engineering bridges, dams and skyscrapers; studying wolf/moose ecology while backpacking at Isle Royale National Park; video game programming; sports science; forensic science; mobile robotics; and, of course, blacksmithing—a perennial favorite at SYP.
Carson Williams, a high-school student from Grand Ledge, Mich., explains how he used what he'd learned in the materials science exploration to create an antler-shaped candleholder.
"First, you have to make a plan and a sketch, so you get an idea of what order you'll do things in," Williams said. "You plan how much iron you'll need and in what shape. The size and length are pretty important. Then you heat one part at a time, bring it to the anvil and start working on the metal, since it's softer when it's red-hot."
A mixture of hammering the iron rod and using a wedge to split the metal into different branches gives Williams the antler effect he wants.
"When you've got a part the way you want it to be, you can quench it off in cold water," he explained. "The water cools the metal quickly and keeps it from changing more when you're working on the other parts."
Of course, the more than 1,000 students who attended SYP this year weren't all learning to be blacksmiths. Twin sisters Melanie and Brittany Blazar, ninth-graders from Minneapolis, Minn., said they came to SYP to explore possible college majors.
"SYP shows you what college is really like," said Brittany. "There have been a ton of activities to do; the classes are awesome, and it's more relaxed than school. We actually get to do a lot of stuff that we only read about in school."
Melanie said when the sisters were looking at possible explorations to take, they couldn't choose just one each. So they stayed on campus for two weeks—taking crime scene investigation, medical physiology and mobile robotics.
"We both took mobile robotics because we wanted to try engineering," said Melanie. "I took crime scene investigation last week because I love watching crime shows, and I think I might want to be a doctor."
The two said that they already plan to come back next summer for more SYP explorations.
"When you're here, you actually feel like you're in college," said Brittany. "You can try out different topics. You get to talk to your new roommate in the residence hall and go on really cool weekend activities like mine tours or go to the beach. SYP is awesome."
Michigan Technological University is a public research university, home to more than 7,000 students from 54 countries. Founded in 1885, the University offers more than 120 undergraduate and graduate degree programs in science and technology, engineering, forestry, business and economics, health professions, humanities, mathematics, and social sciences. Our campus in Michigan's Upper Peninsula overlooks the Keweenaw Waterway and is just a few miles from Lake Superior.