Celebrating African American History and Culture during Black History Month
By Danny Messinger | Published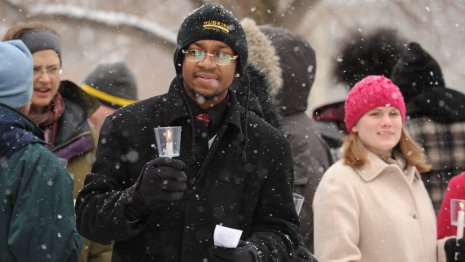 The Black Student Association (BSA) is celebrating African American culture with Black History Month programming. Three events focus on a central theme, "Embracing the Change? The New Face of Activism."
The month kicked off with a presentation by guest lecturer Stefanie Brown James. She is founder of Brown Girls Lead, a program designed to bolster the leadership skills of young black women. James, who also recently served as the national African American vote director for the Obama for America Campaign, spoke on Feb. 14, delivering a call-to-arms about the importance of continuing the fight for freedom and justice.
"There are some people who think racism is over—that it's no longer an issue," said Bill Price, BSA vice president. "That is only partly true. We're at a different time in our nation's history now, but with a lot of the same issues." The month's events aim to address these issues and teach attendees about the ways activism has changed in the twenty-first century.
Two more Black History Month events and a month-long exhibit are planned:
"Freedom Riders," Thursday, Feb. 21, 7:30–9:30 p.m., Fisher 135
A film from award-winning filmmaker Stanley Nelson, "Freedom Riders" tells a story of civil disobedience that took place in 1961, striking the final blow to racial segregation on public transportation. Drinks and snacks will be provided.

"Activism Then and Now," Friday, Feb. 22, 6–7:15 p.m., Fisher 135
Students and staff will present pivotal works and speeches by famous civil rights activists in a reader's theater style. Presenters will stay true to the authors through dress and speech. The event will focus on three main areas: equality and political power, women and feminism, and identity and empowerment.

Library Exhibit, month-long event, J.R. Van Pelt and Opie Library
A display of literary works by prominent African Americans, and other important artifacts will be shown in the library lobby throughout Black History Month.
"We put on a good show regardless of race," said Price. "I think seeing a different perspective is always healthy. There are always some possible challenges when putting events like these on, but we try to make it as educational and entertaining as we can."
All events are free and open to the public.
Michigan Technological University is a public research university, home to more than 7,000 students from 54 countries. Founded in 1885, the University offers more than 120 undergraduate and graduate degree programs in science and technology, engineering, forestry, business and economics, health professions, humanities, mathematics, and social sciences. Our campus in Michigan's Upper Peninsula overlooks the Keweenaw Waterway and is just a few miles from Lake Superior.