Michigan Tech Named a Bike Friendly University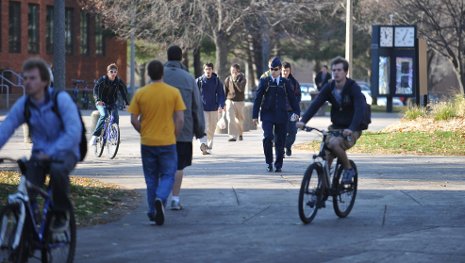 The League of American Bicyclists has named Michigan Tech a bronze-level Bicycle Friendly University.
The Transportation Enterprise at Tech spearheaded the Bicycle Friendly University application. "This award recognizes the progress being made at Michigan Tech to improve biking on campus," said Chris Fongers, project manager for the Enterprise's Bike Friendly Campus team. "Some key elements in our application were the creation of an ongoing Campus Bike Advisory Committee and the development of a 10-year plan for campus biking improvements."
The Michigan Tech Bike Advisory Committee includes representatives from the Transportation Enterprise, the Copper Country Cycling Club (C4) and the Green Campus Enterprise, as well as other staff and faculty.
"This recognition of our efforts to improve biking at Michigan Tech would not have been possible without the help and encouragement of some key people including Civil and Environmental Engineering Professor William Sproule, Ray Sharpe of the Western Upper Peninsula Health Department, and Director of Facilities George Butvilas," said Transportation Enterprise advisor George Dewey, associate professor of civil and environmental engineering. "We anticipate additional bike-friendly improvements to campus in the coming years and encourage others to get involved by joining the Campus Bike Advisory Committee."
College campuses are natural places to integrate bicycling, and Michigan Tech recognizes the small steps needed to make bicycling a safe and easy option for students and staff," said Bike League President Andy Clarke. "Young people are driving less and riding more, and Michigan Tech has embraced that trend."
The Bicycle Friendly Universities program is revolutionizing the way universities evaluate their efforts in sustainability, transportation option and campus dwellers' quality of life, while allowing administrators to benchmark their progress toward improving their bicycle-friendliness. There are now 58 bike friendly universities s in 30 states.
The program provides a roadmap for building a Bicycle Friendly University. The five levels of the award – diamond, platinum, gold, silver and bronze – provide an incentive for universities to continuously improve.
Michigan Technological University is a public research university, home to more than 7,000 students from 54 countries. Founded in 1885, the University offers more than 120 undergraduate and graduate degree programs in science and technology, engineering, forestry, business and economics, health professions, humanities, mathematics, and social sciences. Our campus in Michigan's Upper Peninsula overlooks the Keweenaw Waterway and is just a few miles from Lake Superior.