Michigan Tech Tapped for National Rail Research, Education Center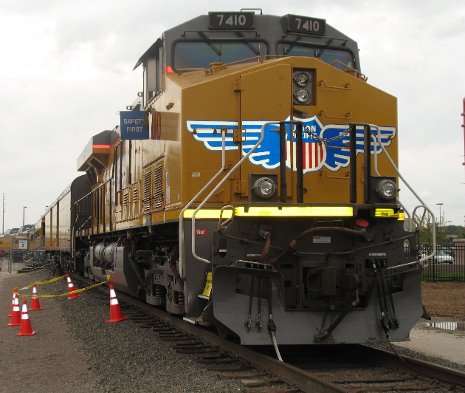 Michigan Technological University's Rail Transportation Program--part of the Michigan Tech Transportation Institute--is one of seven members of a research university consortium that has received the US Department of Transportation's (USDOT) first multi-million grant to a University Transportation Center focused solely on rail transportation. The University of Illinois at Urbana-Champaign (UIUC) will lead the consortium.
The $3.5 million grant is part of a $77 million USDOT initiative to advance research and education programs that address critical transportation challenges facing the nation. In addition to UIUC and Michigan Tech, the members of the National University Rail Center (NURail) are MIT, the Rose-Hulman Institute of Technology, the University of Illinois at Chicago, the University of Kentucky and the University of Tennessee-Knoxville.
NURail is one of 10 University Transportation Centers nationwide to receive the federal funding.
"Michigan Tech's Rail Transportation Program has developed under Dr. Lautala's leadership into a preeminent university rail research and education program," said David Reed, vice president for research. "Its education programs have been strongly supported by the rail industry. NURail builds on this work and related efforts at other institutions in a national center joining university, industry and state governments to further develop rail transportation in the United States."
At Michigan Tech, NURail will consist of four faculty members, including Pasi Lautala, director of the Rail Transportation Program and a research assistant professor of civil and environmental engineering; Devin Harris, assistant professor of civil and environmental engineering; Paul Sanders, assistant professor of materials science and engineering; and John Hill, assistant professor of mechanical engineering-engineering mechanics.
Tech's research will focus on rural freight rail and multimodal transportation improvements, human factors and rail safety, infrastructure evaluation and assessment, high performance materials for railroad infrastructure preservation, and renewal and improved materials for rail industry. The researchers will collaborate with the Michigan Department of Transportation (MDOT) and industry partners.
In addition to research, the Center will place a high priority on developing rail transportation and engineering related education. Lautala will serve as educational coordinator for the consortium. Some of the educational development areas at Michigan Tech will include establishment of a Rail Transportation/Engineering Certificate, expansion of undergraduate level funded Senior Design and Enterprise rail projects, as well as increasing numbers of summer internships.
"The US Department of Transportation's decision to focus one of 10 national centers on rail transportation is a strong testimony to the importance of rail transportation in the US," said Lautala, who is Michigan Tech's principal investigator on the NURail project. "This is a great opportunity for the Rail Transportation Program and for Michigan Tech to strengthen our capabilities and expertise in several areas related to rail. With continuing support from our industry partners, we have now unprecedented opportunity to take the next major step in making Michigan Tech one of the leading universities in the field. I'm really looking forward to working with our university and industry partners and MDOT to develop the US rail system and industry workforce of the future."
The DOT-funded University Transportation Centers are also expected to conduct workforce development and technical transfer activities. Michigan Tech plans to continue working and strengthen its relationship with the Railroad Engineering Education Symposium (REES), which provides basic education in railway transportation and engineering for university professors. Tech plans to expand its Rail and Intermodal Transportation Summer Youth Program by offering 20 scholarships annually. The University will also develop training materials on high-demand areas identified by the DOT and rail industry companies.
Michigan Technological University is a public research university, home to more than 7,000 students from 54 countries. Founded in 1885, the University offers more than 120 undergraduate and graduate degree programs in science and technology, engineering, forestry, business and economics, health professions, humanities, mathematics, and social sciences. Our campus in Michigan's Upper Peninsula overlooks the Keweenaw Waterway and is just a few miles from Lake Superior.