The Campus in Bloom
By John Gagnon | Published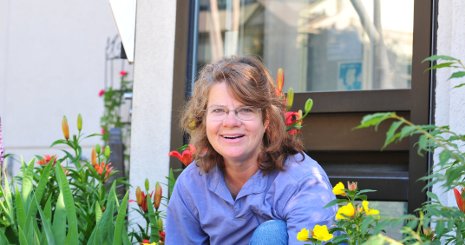 Stroll through the Michigan Technological University campus these days and enjoy enchanting flower gardens that burn bright, scent the air and catch the eye. Some of the gardens are in the sheltering shade; some are in the all-seeing sun, and all are beauties that invite you to pause, reflect and marvel.
Take, for instance, the memorial garden on the south side of the Rozsa Center for the Performing Arts. The basis of this planting is what master gardener Lynn Watson calls "the language of flowers." "Plants communicate human emotion," she says. They speak in poetry, not platitudes. Walk among them and read the little signs that describe what they represent. Learn that the white firs symbolize time; the imperial honey locust, affection beyond the grave; the yew, sorrow; the French willow, bravery and humanity; the mint, virtue; the larkspur, levity; the crimson star columbine, anxiety and trembling; the juniper, succor and protection.
There is another inviting path in a garden by Dillman Hall that features tall trees, delicate flowers and boulders the size of rain barrels that look like Stonehenge in disarray. This "boulder garden" transcends time. The flowers are here and now; the boulders and cobblestones are deposits of glaciers dating back 10,000 years. Sit on a bench, nicely crafted, and enjoy the moment.
Watson certainly enjoys her work. She brings to her endeavors a sunny disposition, a callused hand and a keen eye for aesthetics. She writes, "The wind-contorted limbs of stubborn crab apples stretch over the encircling smoothness of stones, inviting artistic interpretations in all seasons."
She strives to make her plants "happy." Since 2008, she has planted hundreds and hundreds of flowers at Michigan Tech; tucked among them are tomatoes, blueberries, rhubarb, chives, asparagus and sugarplums. Nibble a piece of chocolate mint, she invites.
Hers is a world of transformation, turning "concrete dirt" into "fluffy soil" and transforming a plot between the Van Pelt and Opie Library and Rekhi Hall from a dust bowl to a rose bowl. All these plants enjoy soft mulch. Walking among them is like treading on a wet sponge. Watson uses baker's lingo to describe her effort to build soil. She employs what she calls "lasagna gardening"—three tiers of cardboard or newspaper, manure, and hay. She calls rich soil "chocolate cake."
Her plantings create little ecosystems of fruits, vegetables, trees, and flowers that attract deer, songbirds, butterflies and rabbits. "We need a fox," she remarks.
Where there is heavy traffic, there is dart's ninebark (tough). Where an underground steam tunnel complicates matters--a site that has vanquished many a planting"--there are deeply rooted, sodbuster grasses from the Great Plains, two to six feet high and visible even in winter's deep snows.
In this part of the country, Lake Superior is both boon and bane, says Watson. Winds cool the summer and stress plants; and winds temper the winter and protect plants.
Michigan Tech is an international campus, and Watson's plantings are worldly as well: lilacs (from Persia); garden roses (from China); pea shrubs (from Siberia.)
She hopes the overall impression that people get is, "One, we have a sense of aesthetics, which is classy. And two, we are into nurturing, so it's an okay place to leave your kids."
Watson fusses over more than 40 gardens on campus. They are simply splendid, for a flower is a flower is a flower.
"It's only going to get better and better," she promises.
Michigan Technological University is a public research university, home to more than 7,000 students from 54 countries. Founded in 1885, the University offers more than 120 undergraduate and graduate degree programs in science and technology, engineering, forestry, business and economics, health professions, humanities, mathematics, and social sciences. Our campus in Michigan's Upper Peninsula overlooks the Keweenaw Waterway and is just a few miles from Lake Superior.