Army ROTC Program among the Elite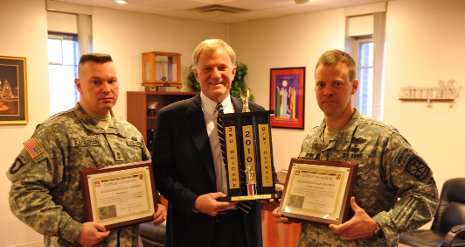 Michigan Tech's Army ROTC has been singled out for excellence at a recent army national leadership conference, where it ranked first among ten small programs and third among all forty programs in the UP and nine other states of the Midwest.
The rankings measured three factors: the performance of third-year students in the Leader Development Assessment Camp at Fort Lewis, Wash., which included field exercises and leadership training; as well as strong numbers in recruitment and graduation. (The retention rate is better than 90 percent.)
These awards, said President Glenn Mroz, who accepted them this week on behalf of the University, are a recognition that "we are attracting the best people—we're competitive nationwide and worldwide."
Lt. Col. James Spence, Army ROTC department chair, said the awards signal "credibility" for both the ROTC program and Michigan Tech.
"Students don't come here just for the ROTC program," Spence said. "Michigan Tech's strong reputation draws them here. And we have the reputation of a cadet-focused and cadet-run battalion that does good work. That combination means that both the University and the ROTC program are distinctive and are succeeding."
In consideration for the awards, Tech was a part of a brigade of schools in the UP, as well as in Wisconsin, Illinois, Missouri, Kansas, Nebraska, the Dakotas, Iowa and Minnesota
Tech's ROTC program will grow, Spence added, because the army is looking for more STEM-educated officers. He said Tech has what the army wants--"officers with analytical and critical-thinking skills. The technical focus is a good fit."
Mroz added, "It's hard to argue that this is not a distinctive program when you're one of the best in the country. We couldn't be more proud of the cadre or the corps."
There are 67 cadets in Army ROTC—"67 points of light for Michigan Tech," Spence said.
Michigan Technological University is a public research university, home to more than 7,000 students from 54 countries. Founded in 1885, the University offers more than 120 undergraduate and graduate degree programs in science and technology, engineering, forestry, business and economics, health professions, humanities, mathematics, and social sciences. Our campus in Michigan's Upper Peninsula overlooks the Keweenaw Waterway and is just a few miles from Lake Superior.