Fun and Games Are Serious Business for Tech's Code Warriors
By Marcia Goodrich | Published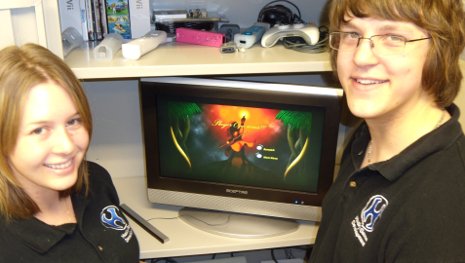 One of the hottest exhibits at Michigan Technological University's Undergraduate Expo was a student-designed video game founded on the tried-and-true premise that the best enemy is a dead enemy.
"We tried to make it as pretty as possible," says Ryan Wilson, a co-developer of Arcane Brawlers and vice president of operations of the Husky Game Development Enterprise. "It's got lightning, a blizzard, meteors, and the players have 21 different spells they can cast."
Sure, players can draw on protection and healing defenses. But, says Wilson, "the whole point is to kill each other," which happens in a spray of blood and body parts, and then you get to shake hands and start over again. And in case this doesn't feel warm and friendly enough, get this: Arcane Brawlers was designed for up to four people to play, at the same time, in the same room. Together.
Apparently, it's a blast. "At the Expo, people wanted to buy it," says Gabby Myers, the Enterprise's president.
Someday they may be able to. The team's goal is to get Arcane Brawlers on Xbox Live, Microsoft's online community where people get together and play video games. "We're finishing it up, and it will go for peer review this summer," Myers says.
They might even see some return on investment, Microsoft willing. If Arcane Brawlers makes it onto Xbox Live, Michigan Tech will receive a share of the revenue every time someone downloads the game.
Arcane Brawlers is just one of four projects that the Enterprise has taken on. Another is a training simulation for Army ROTC, a program to help cadets develop tactical skills. "It will help them get a lot more training in a lot less time," says Capt. Trevor Chartier, assistant professor of military science. "I've seen the first working prototype, and it was pretty impressive. It will be an excellent training aid for our junior cadets."
The Enterprise also organizes the artificial intelligence (AI) programming contest BonzAI Brawl, in which teams of one to three players have just eight hours to code a strategy for their character based on a story revealed the previous day.
AI refers to techniques used to produce the illusion of intelligence in video game characters that aren't controlled by the players. This year 94 students from Michigan Tech and Northern Michigan University participated.
"Last year, the theme was squirrels," says Myers. "They had to protect the mother squirrel and gather nuts." Multitasking turned out to be an issue: just like real intelligence, artificial intelligence can have lapses. "A lot of teams would have their AI go to get the nut, but it didn't bring it back," she recalls. "Because of these flaws in people's code, it makes the event really exciting to watch. Sometimes flaws actually turn out to be beneficial."
Another of the Enterprise's teams is putting the final touches on an island in Second Life, where Audrey Mayer, an assistant professor of social sciences, will be able to teach class and meet with students.
"The students came up with some really good ideas for how to organize the classrooms," says Mayer. "And, they created a lot of features on the island that will give visitors a sense of what it's like to live here and go to school here."
The island is being built as part of the Sustainable Futures Institute, and as such has a cellulosic ethanol plant as well as Mont Ripley, not what you'd normally expect from a group of videogame enthusiasts. "They really went out of their comfort zone," Mayer says. "They've had to deal with an entirely different set of problems, and they've done a great job."
The four success stories notwithstanding, Wilson and Myers say it hasn't been easy. "It's been a slightly bumpy road," Myers says delicately. Wilson is more direct. "It's been a very bumpy road," he states. "In an Enterprise, you have to deal with problems and people, just like in the real world. Management especially is hard. I'd much rather be coding. I'd spend hours yelling at people and pulling my hair."
Myers concurs. "I spend more time on this than on all my other courses," she says. "But it's worth it. I'm actually creating something."
They hope to attract more members who share their zeal, because next year promises even niftier things, including an Arcane Brawlers that lets you battle your friends in 3D. In particular, the Husky Game Development Enterprise would welcome more diversity. Wilson is a computer science major, like most of the team members, and Myers is majoring in business management; they'd love to have more artists and sound experts to take their projects to the next level.
If new members bring commitment and enthusiasm, they ought to fit right in.
"I came to Tech because of Husky Games," says Wilson. "This means everything to me."
Michigan Technological University is a public research university, home to more than 7,000 students from 54 countries. Founded in 1885, the University offers more than 120 undergraduate and graduate degree programs in science and technology, engineering, forestry, business and economics, health professions, humanities, mathematics, and social sciences. Our campus in Michigan's Upper Peninsula overlooks the Keweenaw Waterway and is just a few miles from Lake Superior.