Middle School Girls Get WISE at Michigan Tech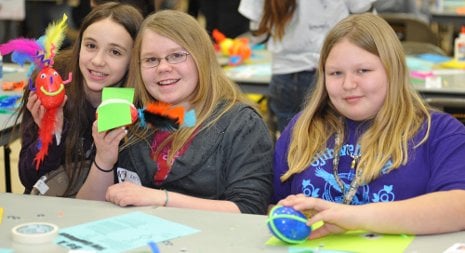 Local middle school girls spent the day exploring the excitement of science and engineering fields at Michigan Technological University, during the annual Get WISE (Women in Science and Engineering) program this Thursday.
The event, coordinated each year by the University's Youth Programs office, brings more than 250 sixth, seventh, and eighth graders from 15 local schools to campus for a day of hands-on activities, talks with female role models, and more. The day's doings are meant to stir interest in science and engineering.
"Engineering isn't all about building roads and cars," said Kristi Isaacson, Youth Programs associate coordinator, who worked to plan this year's event. "This program helps girls learn about engineering in a completely new way, allowing them to see the different options available."
The theme of this year's event was "Get Moving with Get WISE." Participants had the chance to become "toy engineers" by designing and creating their own toys that motivate kids to be active. They started with a foam body and a table full of craft supplies. Their challenge was to build a toy that could fly. They came up with everything from football vortexes to planes and birds.
"The girls turned into engineers right before our eyes," Isaacson said. "It was amazing to see them go through the design process and come up with such different final products.
The event included lunch, a keynote talk by Seth Donahue, associate professor of biomedical engineering, and discussions with three successful women working in STEM fields—Wendy Ratza, a mechanical design specialist with GE Aviation Systems; Linda Hansen, a project engineer with AECOM; and Michelle Bakkila, project manager for Weston Solutions of Michigan Inc.
I've always liked science, but this is a big improvement; we get to do more than just reading books," remarked one of the participants, Lanna Pirkola, a seventh grader from Washington Middle School. "It's definitely more fun than when I'm just in school."
Each of the 270 participants received a certificate for attending the event on National Introduce a Girl to Engineering Day.
Michigan Technological University is a public research university, home to more than 7,000 students from 54 countries. Founded in 1885, the University offers more than 120 undergraduate and graduate degree programs in science and technology, engineering, forestry, business and economics, health professions, humanities, mathematics, and social sciences. Our campus in Michigan's Upper Peninsula overlooks the Keweenaw Waterway and is just a few miles from Lake Superior.