Congressman Stupak the Featured Speaker at Michigan Tech Commencement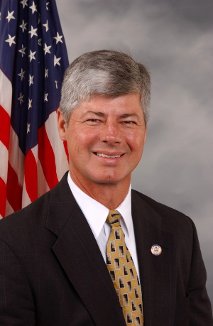 Congressman Bart Stupak will address the graduates at Michigan Tech's 2010 Midyear Commencement.
December 3, 2010—
Congressman Bart Stupak will address Michigan Technological University graduates at Midyear Commencement ceremonies Saturday, Dec. 11.
A total of 292 students will be receiving bachelor's degrees. In addition, 85 master's degrees and 24 doctorates will be awarded.
Stupak will receive an Honorary Doctorate in Environmental and Energy Policy. He is retiring in January after 18 years of service to Michigan's 1st Congressional District. He is a member of the House Energy and Commerce Committee and, as the ranking Democrat, chair of the Oversight and Investigations Subcommittee.
Before his election in 1992, Stupak was a Michigan state representative and worked as an Escanaba police officer and Michigan State Police trooper. He also practiced law. A graduate of Gladstone High School, he earned an associate degree from Northwestern Michigan College, a bachelor's degree in criminal justice from Northern Michigan University and a law degree from Thomas M. Cooley Law School in Lansing.
Health care has been a priority for Stupak since he was elected to Congress, when he pledged not to accept the insurance that members of Congress receive until all Americans could have access to that same quality health care.
He has been a leader in the international effort to ban the sale and diversion of the Great Lakes and opposed the drilling for oil and gas beneath the Great Lakes.
Stupak founded and cochaired the Congressional Law Enforcement Caucus, a bipartisan organization that provides the law enforcement community with an avenue to participate in the legislative process. He has been a leader in homeland security, particularly in connection with programs to train and equip local law enforcement officers and other first responders. In addition, Stupak cochairs the Congressional Northern Border Caucus.
Michigan Technological University (www.mtu.edu) is a leading public research university developing new technologies and preparing students to create the future for a prosperous and sustainable world. Michigan Tech offers more than 120 undergraduate and graduate degree programs in engineering; forest resources; computing; technology; business; economics; natural, physical and environmental sciences; arts; humanities; and social sciences.