Wolves Declining, Drama Level Rising on Isle Royale
By Jennifer Donovan | Published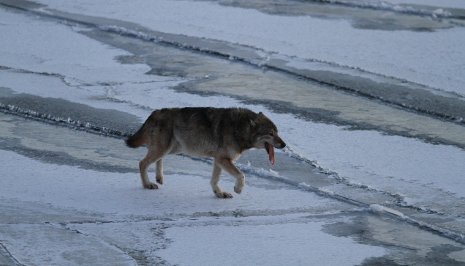 The number of wolves and wolf packs on Isle Royale is dwindling.
When scientists from Michigan Technological University went to the island-based national park for their annual Winter Study this year, they found only two wolf packs, half the number they saw there in 2009. East Pack and Paduka Pack had disappeared, leaving only Chippewa Harbor and Middle Packs and three unaffiliated wolves known as loners.
"East Pack's extinction is the end of a dynasty," says Rolf Peterson, one of two lead researchers on the wolf-moose study, which has been going on at Isle Royale for more than 50 years. "There has been a territorial wolf pack centered on the east end of the island since 1972." Peterson is the Dick and Bonnie Robbins Professor of Sustainable Management of the Environment in Michigan Tech's School of Forest Resources and Environmental Science.
Peterson and research co-leader John Vucetich, who is also with Michigan Tech's School of Forest Resources and Environmental Science, just released their annual report on the wolves and moose of Isle Royale. The report is based on data from the Winter Study conducted from mid-January until early March 2010.
There now are 19 wolves on Isle Royale, a 21 percent drop from 2009, when the scientists counted 24.
The extinction of the two packs follows a harsh winter that saw low numbers of moose—the primary prey and food source for the wolves—as well as the toxic effects of inbreeding and attacks by members of Middle and Chippewa Harbor Packs.
Vucetich and Peterson think one of the lone wolves they saw this winter may be a survivor of Paduka Pack, which formed in 2007 when a brother and sister wolf from Middle Pack established their own territory on the north side of Isle Royale and had two pups.
"The wolves certainly are challenged," said Peterson. "There are leadership issues in one pack; one of the females in the other pack is old, and they are having trouble finding food."
However, Peterson and Vucetich are not excessively concerned. "The moose have been on the ropes for a few years," Peterson remarked. "Now it's the wolves' turn. But two reproducing packs in a confined space like Isle Royale is still pretty good. There may not be many of them, but they are in good shape.
There are around 510 moose, half the long-time average. But the moose enjoyed a cool, wet summer in 2009, and the winter tick infestation—a major threat to moose in recent years—decreased. The moose produced more calves than they had the year before.
"This all looks like part of a natural cycle," he added. "The weather is now the most significant factor," said Vucetich. "We seem to have moved from a predator-controlled system to a climate-controlled system."
Social Drama
The annual report is a window on a social drama that unfolds before the researchers' eyes each winter, rivaling anything on daytime TV.
In Chippewa Harbor Pack, the alpha male was acting dominant toward his former mate, causing trouble between her and his current mate. And the pack's numbers varied from as many as nine to as few as 5, suggesting that the pack was losing its cohesion, with the older, subordinate wolves striking out on their own.
This winter the researchers watched a male from the Chippewa Harbor Pack and a female from East Pack begin efforts to establish a new pack. "We saw tracks in the snow that indicated that they'd mated," said Vucetich, "but she's at risk in his family's territory, and he's at risk in her family's territory. "The ambitions of a lone wolf are to learn how to kill moose on his own, find a mate and establish a territory. But most die trying."
The Middle Pack wolves were facing their own difficulties. The dominant or alpha female is at least 11 years old, quite old for a wolf, the researchers say, and she walks as though she's been injured, making it even harder for her to kill a moose. In fact, on two different occasions this winter, Middle Pack had to wait nine or 10 days for an adult moose to die before they could feed. Usually wolves don't wait patiently for a meal to die, since they are well-equipped by nature to hasten the process.
Are Wolves Wasteful Gluttons?
Many people believe that wolves regularly kill more than they can eat. Vucetich and Peterson call that a misperception. "Wolves typically consume between 91 to 95 percent of the edible portions of a carcass," they say in their annual report. Wolves also tend to eat more of each animal they kill when food is hardest to come by.
"Wolves are not wasteful gluttons," they conclude. "They exhibit a behavior that has been observed in just about every species an ecologist has taken time to observe, and that behavior appears to be an optimal feeding strategy shaped by natural selection. Something like this pattern has even been observed in humans," they point out.
The scientists' report also contains good news. Analysis of moose teeth collected for five decades on Isle Royale shows that mercury and lead concentrations began declining after the passage of the US Clean Air Act of 1970 and the removal of lead from gasoline in 1975. The concentration of mercury dropped suddenly by about 65 percent in the early 1980s and remained constant for the next two decades. Lead began declining in the early 1980s and by 2002 the lead concentration in adult moose's teeth was 80 percent lower than it had been prior to 1980.
"These declines clearly indicate the value of our current antipollution regulations," Peterson and Vucetich say.
Isle Royale is a perfect natural laboratory for pollution studies like this, because there are no industrial sources nearby and there is a large body of air over Lake Superior, with 90 percent of the mercury, for example, coming from more than 200 kilometers away.
Michigan Technological University is a public research university, home to more than 7,000 students from 54 countries. Founded in 1885, the University offers more than 120 undergraduate and graduate degree programs in science and technology, engineering, forestry, business and economics, health professions, humanities, mathematics, and social sciences. Our campus in Michigan's Upper Peninsula overlooks the Keweenaw Waterway and is just a few miles from Lake Superior.