Wasted Space Begets Beauty: Rozsa Art Gallery Opens Monday, September 28
By Dennis Walikainen | Published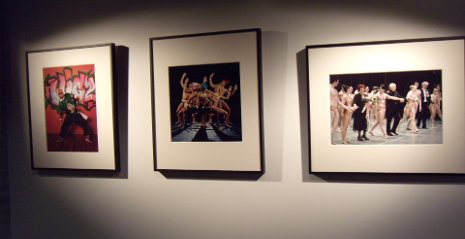 What were once storage rooms and empty space has been transformed into something beautiful.
Thanks to the estate of Eileen J. Niva '71, the lower level of the Rozsa Center for the Performing Arts now contains a gallery to feature various artists, and if its first showing is any indication, the Keweenaw just got a great, new artistic venue.
"The Dancer Within" is a presentation of photos by Rose Eichenbaum, and they are breathtaking.
"The idea was to feature the national and international artists that might not normally get seen in the area," says Niki Belkowski, graphic designer and marketing coordinator for the Rozsa. "We don't want to compete or take away from local galleries, so we want to bring in different kinds of stuff." Local artists, too, may be featured in the future, she says.
Friday afternoon, workers were applying finishing touches to the lighting and displays as white-gloved students were painstakingly cleaning off all the glass covering the photos.
"Let's Dance," by David Bowie came on the radio, as we were touring the exhibit.
"I didn't plan that," laughs Belkowski in the purple-tinged concrete and metallic space. The gallery has a very modern feel, in concert with the rest of the Rozsa.
And the photos feel right at home, too, spanning decades of work from black and white to color. You'll recognize images of Gregory Hines, Ann-Margaret, George Balanchine, Mikhail Baryshnikov, and the cast of Cats, to drop a few names.
The show is free and is part of the Smithsonian Institution Traveling Exhibition Service. The art gallery is open from noon to 4:00 p.m. Monday through Friday, and 5:30 to 7:30 p.m. on evenings when there is an event at the center. The Eichenbaum exhibit runs until Sunday, Nov. 22.
Michigan Technological University is a public research university, home to more than 7,000 students from 54 countries. Founded in 1885, the University offers more than 120 undergraduate and graduate degree programs in science and technology, engineering, forestry, business and economics, health professions, humanities, mathematics, and social sciences. Our campus in Michigan's Upper Peninsula overlooks the Keweenaw Waterway and is just a few miles from Lake Superior.