Researchers Receive $1.5 Million to Make Steel, Syngas Using Microwaves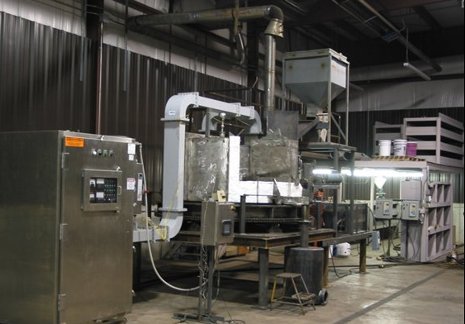 A project spearheaded by a team of materials science and engineering researchers has received $1.5 million from the Michigan Public Service Commission to further develop a new, energy-efficient method for making steel. And, by the way, it also produces syngas.
The grant was awarded jointly to Michigan Tech and to U.P. Steel, a start-up company created by Professor Jiann-Yang Hwang and Xiaodi Huang, a project manager and research leader in the Institute of Materials Processing.
"We started this concept back in 1991, using microwaves to do steel-making," said Huang. "Iron ore and carbon, which are used to make steel, are both excellent microwave-absorbing materials; in a few minutes, they can get up to 1,000 degrees centigrade."
The team initially created small samples of a few grams each in household microwave ovens. Later, after much testing, they designed and fabricated a hybrid furnace that combined microwave and electric-arcing technology that could make one kilogram of steel an hour.
Their work impressed the Department of Energy enough to earn a grant to build a bench-scale model. "That was pretty successful," Huang said. "We proved we could make high-quality steel in about twenty or thirty minutes."
In 2001, the technology was licensed to U.P. Steel, based in Negaunee. "At that point, the major problem was how to scale production up," said Huang. In 2005, the researchers completed a microwave rotary hearth furnace that can make two hundred pounds of steel in an hour. With the Michigan Public Service grant, they expect to triple steel production, to six hundred pounds an hour, and add another product to the mix.
"Our goal is to produce pig iron nugget and synthetic gas from the iron and coal," said Huang. "Syngas is very valuable; it would be equal to or greater in value than the steel."
The process could also take advantage of America's vast coal reserves and reduce dependence on petroleum. "If all the steel in the US were made this way, it would produce gasoline equal to a quarter of total US consumption," Huang said.
Michigan Technological University is a public research university, home to more than 7,000 students from 54 countries. Founded in 1885, the University offers more than 120 undergraduate and graduate degree programs in science and technology, engineering, forestry, business and economics, health professions, humanities, mathematics, and social sciences. Our campus in Michigan's Upper Peninsula overlooks the Keweenaw Waterway and is just a few miles from Lake Superior.