Parade of Nations Celebrates MultiCultural Character of Michigan Tech
By Jennifer Donovan | Published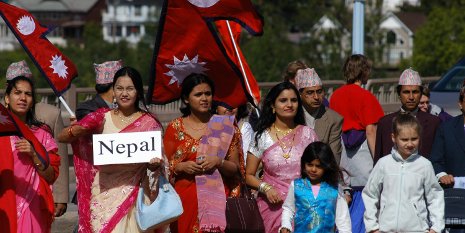 Students from more than 70 countries attend Michigan Tech. They will provide a colorful backdrop for the twentieth annual Parade of Nations on Saturday, September 19. Traditionally, the communities of Houghton,, Hancock and surrounding communities turn out in force for the early fall festival.
"Dancing with Diversity" is the theme of this year's Parade of Nations, a festival filled with music, food and ethnic pride. The parade itself will start at 11 a.m. at Hancock Middle School and end in Houghton, where it will be followed by the Multicultural Food and Music Festival at Dee Stadium, from approximately noon to 4 p.m.
The parade will feature community members and students from Michigan Tech and Finlandia University, all representing diverse heritages. Ethnic groups with large numbers of students at Michigan Tech, such as Indian and Chinese, will celebrate their cultures with floats. The Michigan Tech Pep Band and local high-school and middle-school marching bands will play.
Besides the traditional parade, ethnic fare and clothing, this year's program includes a Bolivian group, Boliviamanta, which will give a benefit performance on Friday, Sept. 18, at 7 p.m. in the Memorial Union Ballroom at Michigan Tech. Kevin J. Walker, Tech's interim African American outreach coordinator, also will perform. A donation will be requested.
The celebration at Dee Stadium on Houghton's waterfront will be an opportunity to enjoy a diverse offering of handcrafts and tasty treats. As well, there is a children's activity area, along with free pony rides.
For more information, contact Lori Muhlig, Michigan Tech's Native American outreach coordinator, or Madeline Mercado Voelker, Michigan Tech's Hispanic/Latino(a) outreach coordinator, both at 487-2920.
Michigan Technological University is a public research university, home to more than 7,000 students from 54 countries. Founded in 1885, the University offers more than 120 undergraduate and graduate degree programs in science and technology, engineering, forestry, business and economics, health professions, humanities, mathematics, and social sciences. Our campus in Michigan's Upper Peninsula overlooks the Keweenaw Waterway and is just a few miles from Lake Superior.