Walking a Mile in Each Other's Shoes
By Jennifer Donovan | Published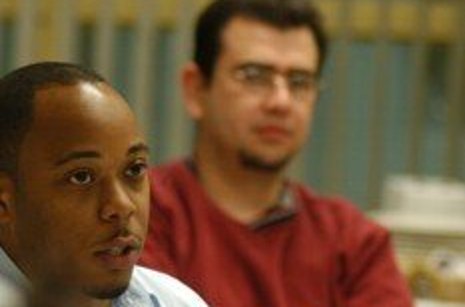 What do public policymakers know about engineering? Usually not much. What do engineers know about public policy and social needs? Usually even less.
To inform each other about their worlds and their concerns—and so help prepare them to do their jobs better—graduate students from Michigan Technological University in Houghton, Mich., and Southern University and A&M College in Baton Rouge, La., are spending time on each other's campus and working collaboratively on research projects. They're participants in a National Science Foundation-funded program called Integrative Graduate Education and Research Traineeship (IGERT), run by Michigan Tech's Sustainable Futures Institute.
Last spring, eight Michigan Tech students spent two weeks on Southern's Baton Rouge campus.
This week (July 20-24, 2009), three students and two faculty members from Southern will join 15 IGERT trainees from Michigan Tech at the campus in Houghton to share their experiences and their research. Michigan Tech faculty who have served as IGERT advisors will also participate. They include Mary Durfee, John Gershenson, John Gierke, , Jeff Naber, David Shonnard, John Sutherland, Noel Urban , Komar Kawatra, Larry Sutter, Donna Michalek and David Watkins.
The trainees will present their research and tour the Michigan Tech campus on Wednesday, July 22. Thursday evening, July 23, they will dine at the Miscowaubik Club in Keweenaw National Historical Park, before the visitors return to Baton Rouge on Friday.
"Being involved in IGERT has provided me with a multi-disciplinary (some call it meta-disciplinary) perspective on one of the greatest challenges we face globally—sustainability," said Margot Hutchins, an IGERT trainee and graduate student in mechanical engineering-engineering mechanics. "I think this will be useful because it allows me to better understand the assumptions and arguments of people from a variety of disciplines, communicate with them, and, hopefully, bring them together to address complex problems."
Donna Michalek, assistant provost and associate professor of mechanical engineering-engineering mechanics, is an IGERTadvisor. "It is very rewarding advising and working with the IGERT graduate students at both campuses," she said. "The program places many challenges before the students, and they not only meet them but also challenge the faculty by requiring us to go beyond our individual comfort zones."
This is the final year of IGERT's $3.5 million NSF grant. The program has been invited to submit a renewal proposal, said IGERT coordinator Melanie Yang.
Michigan Technological University is a leading public research university, conducting research, developing new technologies and preparing students to create the future for a prosperous and sustainable world. Michigan Tech offers more than 130 undergraduate and graduate degree programs in engineering, forestry and environmental sciences, computing, technology, business and economics, natural and physical sciences, arts, humanities and social sciences.
Michigan Technological University is a public research university, home to more than 7,000 students from 60 countries. Founded in 1885, the University offers more than 120 undergraduate and graduate degree programs in science and technology, engineering, forestry, business and economics, health professions, humanities, mathematics, and social sciences. Our campus in Michigan's Upper Peninsula overlooks the Keweenaw Waterway and is just a few miles from Lake Superior.