Tech Talks: Of Wolves and Moose on Isle Royale
By Dennis Walikainen | Published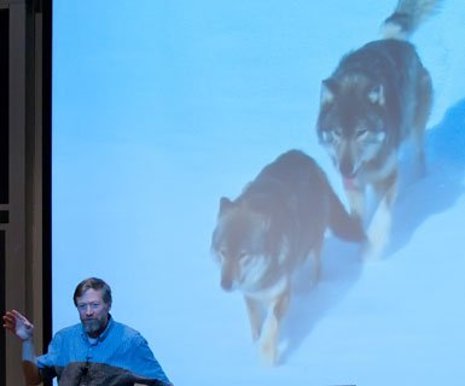 During Alumni Renuion 2009, Research Professor Rolf Peterson (SFRES) shared his wolf-moose research at a special Tech Talk. In a packed hall, Peterson talked about 50 years of research on the wolves and moose of Isle Royale National Park, noting that "there are no patterns in the wolf and moose population fluctuations. The work is really about the understanding of nature," he explained.
And, at Isle Royale, that takes on special meaning because of its isolation. "The animals are protected; they are locked in," Peterson said. "They are not killed by people." So, the natural chain of events can unfold unaffected, for the most part.
The moose arrived some 100 years ago, probably swimming over from Canada, and lived predator-free for about 30 years, until there were 2,000 to 3,000 of them. Then they suffered the boom-and-bust cycles that overpopulation causes, until the wolves walked across an ice bridge from Canada one especially frosty winter in the 1940a..
Peterson's video clips illustrate the most familiar part of the relationship: wolves chasing a moose until it turns and confronts them. "Nineteen of 20 times, the wolves leave the moose alone. The moose can outrun wolves, if the snow is low, or they can ward off wolves most of the time, he explained. But smaller calves and those older than nine years are more vulnerable.
The longer one studies them, the less correlation between the species' populations there appears to be, Peterson said, surprising the audience.
Moose suffer from arthritis and periodontal disease, just like people. Other negative factors include hot summers (i.e., 300-pound stomachs; they don't perspire, needing Lake Superior to cool off their dark brown selves); El Niño in 1998 caused much hardship.
In the winter, the moose's main enemy is ticks "Twenty thousand ticks can be found on a moose, and the females take a lot of blood," Peterson said.
Wolves have different problems: mostly caused by inbreeding brought about by the isolation, save for one new male introduced in 1997, which did correlate with a population increase.
On July 4, 1984, a dog with canine parvovirus visited Isle Royale. The virus spread rapidly, killing almost all the wolves. "They really didn't do well until that new male in 1997," Peterson said.
Questions from the crowd included:
Collaring wolves? "We try not to do that--it is too hard on them."
Wolves being imported from the Detroit Zoo? "True, in 1952. They didn't survive."
Wolves and moose in the UP? "Those wolves go after deer and beaver, not moose."
A 1934 die-off of Isle Royale moose? "Starvation from overpopulation. No natural predators at the time."
For the full story of Peterson's presentation, see http://www.admin.mtu.edu/urel/ttoday/previous.php?issue=20090810&id=8328&nav=1#3
Michigan Technological University is a public research university, home to more than 7,000 students from 54 countries. Founded in 1885, the University offers more than 120 undergraduate and graduate degree programs in science and technology, engineering, forestry, business and economics, health professions, humanities, mathematics, and social sciences. Our campus in Michigan's Upper Peninsula overlooks the Keweenaw Waterway and is just a few miles from Lake Superior.