New Cafe Opens in the Library
By Jennifer Donovan | Published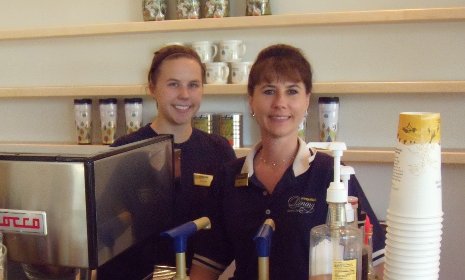 The J. R. Van Pelt and Opie Library now has a café that is handy, cozy and handsome—the ideal place to grab a cup of coffee or a sandwich, read the paper or do some work. The venue, tucked into the northeast corner of the first floor, opened Monday, Aug. 17, 2009, under the solicitous watch of Donna Blake.
Like the rest of the library, the décor is burnished maple, faux granite and lots of glass. The area, with walls of glass on the north, east and (soon) south sides, is about 20 feet square and looks over the new rose garden between the library and Rekhi Hall. Inside, there will be a few tables and chairs and an L-shaped counter with fourteen stools. "You can look out the window and do your work," says Max Lean, associate director of dining services. There will also be outdoor seating on the patio in front of the north and east glass walls.
The menu is equally impressive: good espresso beverages, quality sandwiches and baked goods. In particular: gourmet coffee; exotic teas; steamed and flavored milk; cold drinks including iced coffee and flavored seltzer water; as well as sandwiches, chicken Caesar salads, fruit; biscotti, bagels, cream cheese, peanut butter, scones and big cookies.
At least one offering will be exclusive: ciabatta sandwiches made with turkey, beef, salami, bologna or pepperoni. They will have a garlic aioli spread and be spiced with olive oil and five herbs."What makes the sandwich is the rolls," Lean says. "It's different than what you can get on the rest of the campus. The cafe also will sell mugs, gum, mints and coffee beans.
The initial hours of operation, 11 a.m. to 5 p.m., are based on door counts that show more students visit the library later in the day than earlier. The hours might be adjusted. "We'll play it by ear," Lean says.
Capacity of the new cafe? "How many people can you put in the building," Lean asks rhetorically, for patrons will be able to savor the fare anywhere in the library.
"It's great for the library," says Carol Makkonen, library finance coordinator and office manager. "It'll bring a lot of people for coffee and a newspaper." She says such facilities are "common at other university libraries."
A gift from Tech benefactor David Brule of Iron Mountain--recently a member of Michigan Tech's Board of Trustees--jump-started the cafe.
Michigan Technological University is a public research university, home to more than 7,000 students from 54 countries. Founded in 1885, the University offers more than 120 undergraduate and graduate degree programs in science and technology, engineering, forestry, business and economics, health professions, humanities, mathematics, and social sciences. Our campus in Michigan's Upper Peninsula overlooks the Keweenaw Waterway and is just a few miles from Lake Superior.