Music with a Message
By John Gagnon | Published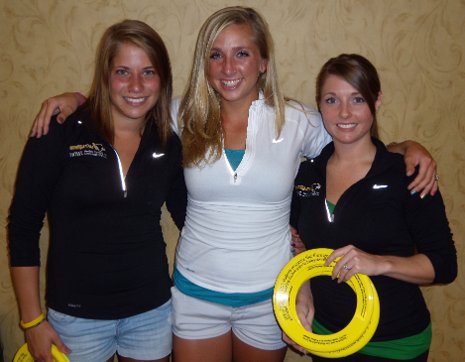 A rock concert on the Michigan Tech campus featured both fun stuff and serious stuff this week.
The two-hour show, part of Orientation for first-year students, featured a group called Grampus from Marquette and a twosome named Baby Guts from Minneapolis.
The T-shirts captured the spirit of the doings: Pink Floyd, Ozzie Osbourne, Javelina—and Jimi Hendrix with angel wings. Orientation folks wore T-shirts with this inscription on the back: "Music expresses that which cannot be said and on which it is impossible to be silent." Victor Hugo talking.
Midway through the two-hour concert, Michelle Bangen, of Counseling and Wellness Services, and her student helpers showed up and passed around doughnut-hole Frisbees with this message:
"81 percent of Michigan Tech students recognize that there are risks associated with consuming alcohol prior to being sexually active."
This is what Bangan calls "a social norms message," and it was the first of several that were to be floated at Orientation this week. Bangen was excited about the work, and her enthusiasm was shared by two lively students who were helping her, Christina Mishica, a junior from Hancock; and Kristen Monahan, a senior from Minneapolis. Both are in HOWL (Healthy Options for a Wellness Lifestyle), both are in the exercise science program, and both are on the varsity cross country and Nordic skiing teams.

All these folks were trying to encourage responsible decisions related to drinking and dispel misinformation. "Students think that other students drink a lot more than they actually do," Bangen says. That mistaken notion, she adds, can constitute pressure to drink, especially among first-year students. "If students perceive others as heavy drinkers," she says, "they are more likely to become heavy drinkers, if they think it will help them fit in."

Bangan and Katie Russell, coordinator of Orientation, have spearheaded a campus effort to try to curtail high-risk drinking, a project for which they received a grant of $116,840 from the Department of Education. "The misconception about alcohol abuse on campus is gigantic," Bangen adds.
She cites a 2006 alcohol- and drug-use survey that measured usage, attitudes and perceptions. It showed that more than 90 percent of Tech students believe that the average student drinks once a week or more, while, in fact, 70 percent of students drink once a week or less, and 20 percent don't consume alcohol at all.
"Although the majority of our students are making smart decisions related to alcohol use," Bangen says, "the percentage of Michigan Tech students engaging in high-risk drinking behaviors is still unsettling."
Thus, the effort to enlighten first-year students about this nationwide problem. The message fell on the open ears of Peter Denney, of Green Bay, Wis., who is majoring in general engineering. He says Orientation in general, and the alcohol message in particular, are "helpful." He liked the straightforward approach the University used in an online interactive program, AlcoholEdu for College Students, which was emailed to all incoming students over the summer. It identified drinking habits and addressed the policies, risks and consequences of problem drinking.
"They give you the facts so you can make your own educated decision," Denney said. "Drinking is definitely the image most people have about college. It's not as true as they make it out to be. It's only a problem if you make it one." Overall, Orientation helps first-year students fit in and feel comfortable. Arriving on campus can be hard. "Super overwhelming," said Kim Hammer, from Eden Prairie, Minn., who is majoring in chemical engineering. It's her first time away from home. "You have no idea who people are, whether they're nice and what they think of you," she worried.
Orientation is helpful. "Everybody has been really nice," Hammer said. She liked the mix of the fun and the sober. "It works really well," she says. "It keeps you alert." As for alcohol use? They're preaching to the choir as far as Hammer is concerned. "Way too many students have their own idea of drinking," she said. "But what an awful way to meet people. It's your first impression, and you're making a fool of yourself." Instead, she can't wait to hit the broomball rink. Seeing it being played was the highlight of her visit to campus in the winter of her junior year in high school.
Hammer liked the music at the rock concert. Another student, Tingwen Li from China, had this to say about it: "It was the first time I heard music so close. I like softer music."
Michigan Technological University is a public research university, home to more than 7,000 students from 54 countries. Founded in 1885, the University offers more than 120 undergraduate and graduate degree programs in science and technology, engineering, forestry, business and economics, health professions, humanities, mathematics, and social sciences. Our campus in Michigan's Upper Peninsula overlooks the Keweenaw Waterway and is just a few miles from Lake Superior.