A member of the presidential administration visited Michigan Technological University and Calumet Electronics Tuesday to get a first-hand look at the changing landscape of manufacturing and the role education plays in it.
Michigan Tech alumna Audra Thurston '18 has a degree in chemical engineering, but after an internship at a local manufacturer of printed circuit boards, her career took an unexpected turn — and it seems to have worked out well.
Thurston's story was held as an example of current trends in small business as well as STEM education at a round table led by Chris Pilkerton, acting administrator of the U.S. Small Business Administration (SBA). Following a tour of Calumet Electronics, where Thurston is employed as a process engineer, Pilkerton presided over the hour-long meeting in Michigan Tech's Memorial Union Building, attended by about 40 representatives of education and business. In addition, three members of Calumet High School's robotics team and coach Todd Waurio were there to tell their stories.
The Attitude We Need
Pilkerton's visit is part of President Donald Trump's executive order to develop a national strategy to expand the skilled workforce in key industries like manufacturing. Calumet was designated as an "Opportunity Zone" by the SBA. In his opening remarks, Pilkerton said, "This is literally the perfect setting. Getting companies, students, the University and others to tell their story is the most important part of our trip. Now my job is to take these stories back to Washington and figure out how we can do more to help."
Todd Brassard, vice president and chief operating officer of Calumet Electronics, told the group, "The attitude that Audra Thurston has is the attitude we need."
An Internship Changed Everything
Thurston briefly told the story of how she came to Michigan Tech from Utah to focus on manufacturing and get hands-on experience in industry. The outdoor enthusiast fell in love with the Keweenaw and began looking for local opportunities for internships and full-time career choices. She accepted an internship at Calumet Electronics. Although a firm manufacturing printed circuit boards might not seem like the traditional venue for a chemical engineering student, it was right for her.
During the internship, Thurston discovered a passion for the electronics industry. "I didn't know a chemical engineer could go into electronics — my internship showed me that. I realized that engineers are needed, not just in manufacturing, but especially on the electronics side of manufacturing."
Thurston said internships are a big part of a Michigan Tech education. "The big message of Michigan Tech is they want you to get the education employers want. Tech trains you to get a job."
"An internship is simply an apprentice using the art form."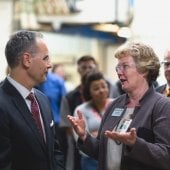 Janet Callahan, dean of Michigan Tech's College of Engineering, supported Thurston's view on the importance of internships: "An internship is simply an apprentice using the art form. Interns learn the relevance of what they learn in the classroom and why it matters. We need to drive the concept of learning through internships. Audra is an example of that."
Michigan Tech's Vice President for Government Relations William Kordenbrock agreed. "We punch above our weight," he said. "Audra is a shining example of what we're all about."
In her short time at Calumet Electronics, Thurston has continued to excel. She is now a process engineer where she works with traditional or "dirty" PCB manufacturing. She is currently working with Silicon Valley startup company Averatek to develop a manufacturing process for realizing ultrafine circuits, copper traces thinner than those currently used in iPhones. This technology will allow the American electronics industry to leapfrog current international technology.
Thurston has come full circle in a short period of time. "I now get to work with interns, which is really rewarding."
Audra Goes to Washington
Pilkerton called his visit an incredible experience. "The timing of this conversation is perfect. I'll be meeting Monday (July 29) with the Department of Labor."
However, it seems Thurston will have the chance to tell her story in Washington before Pilkerton shares it. She is scheduled to meet and speak at the White House later this afternoon as part of an event marking the one-year anniversary of that executive order.
In addition, she has been asked to return for media interviews in the White House driveway at 2 p.m. tomorrow. (July 26). These longer interviews will afford Thurston a better opportunity to speak about Calumet Electronics and Michigan Tech.
Michigan Technological University is a public research university founded in 1885 in Houghton, Michigan, and is home to more than 7,000 students from 55 countries around the world. Consistently ranked among the best universities in the country for return on investment, Michigan's flagship technological university offers more than 120 undergraduate and graduate degree programs in science and technology, engineering, computing, forestry, business and economics, health professions, humanities, mathematics, social sciences, and the arts. The rural campus is situated just miles from Lake Superior in Michigan's Upper Peninsula, offering year-round opportunities for outdoor adventure.