The PAAMEE program recruits promising high school students to study renewable and conventional energy.
If someone says, "When life hands you lemons…" most people respond with lemonade. Not engineers; they'd say batteries.
Likewise, not all teenagers would be willing to give up their Saturdays. But for young men interested in engineering careers, PAAMEE takes a rather sour proposal—Saturday classes for three semesters—and turns it into a powerhouse of opportunity.
Michigan Tech's Summer Youth Program is hosting two groups of PAAMEE students from the Detroit area for week-long, hands-on summer camps on clean energy. One group was at Tech last week; the other is on campus this week.
The PAAMEE program, funded by National Science Foundation (NSF), runs 1.5 years for each group. It is a collaboration among the Detroit Area Pre­College Engineering Program (DAPCEP), Lawrence Technological University, Michigan State University, Oakland University and Michigan Tech.
Diversity in STEM
On the students' first day at Michigan Tech, they learned to make batteries from lemons. Two of the participants, Jamyl Washington and Ari Smith, explain that they used copper and zinc electrodes—attached to the lemon with little alligator clips—to power a small LED light. A simple chemical reaction pulls electrons from the zinc to the copper through the lemon. Simple, but not easy.
"It can be frustrating because you're constantly refining the process," Smith says, though he thinks that holding a volt meter to a lemon battery and similar hands-on lessons are the best way to learn science. "I know the gist of the topics we're learning about, but now I'm getting into topics in-depth."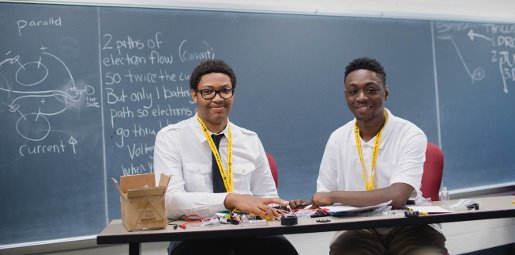 During his Saturday classes downstate, Smith took on a project about biofuels; Washington studied geothermal energy. They both say the PAAMEE program has done more than teach them about the STEM concepts of energy production.
"You can't give up so easy," Washington says as advice to future PAAMEE students, adding that he thinks the attitude applies to more than a figuring out a finicky class experiment or sticking to a long-term project. "With renewable energy, the science is there, but our systems aren't—it's not about what to do, but how to do it."
Summer Youth Programs
The goal of PAAMEE is to give students an edge when they get to college—an edge that often carries over into internships, co-ops and job opportunities. During the summer camp at Michigan Tech, Washington, Smith and their fellow students learn about topics including LED technology, nuclear power, petroleum and automotive application, and renewable energy. The last is an important one for the students; they cover everything from social justice discussions to geothermal tours at the Keweenaw Research Center, from hydropower tours of Prickett Dam to building mini-wind turbines and solar-powered cars.
"All these topics are connected to what I teach in my classroom," says Ann McGowan, one of the PAAMEE instructors who teaches science at Detroit Cristo Rey High School. "As we're looking at the solar panel connectors, I can bring up what we discussed in classes about parallel series—it reinforces both lessons."
All the PAAMEE courses are aligned with the Michigan Science Standards. The teachers don't go for status quo, though.
"We want the lessons to be unexpected," says Melissa Jaeger, another PAAMEE instructor who teaches math and science at Lakeshore Middle School in Grand Haven. "We're teaching them to be making decisions about energy production, how to make it more accessible and not damaging to people's health."
Lemons into Opportunities
Raphiel Davis is one of the chaperones accompanying Washington, Smith, the other PAAMEE students, along with teachers like McGowan and Jaeger. With first-hand experience in both DAPCEP programs and in his own college engineering program, Davis says PAAMEE is a once-in-a-lifetime opportunity for young African American men.
"The real world is real diverse. And college is where you first experience that," he explains, joking that he started taking notes in the PAAMEE classes because he felt like he was learning a lot. "What's great about PAAMEE is that it's not just about making the classes interesting, but these students are learning what it takes to push the culture of engineering forward."
Washington and Smith are both excited about careers in architecture. and they agree that they see building design and engineering in a new light because of PAAMEE. They also say it's their personal drive and encouragement from family that pushes them to work hard.
"Forget the race and the color—if you want to go to the next level, you have to focus and take opportunities like this seriously," Smith says. "Engineering is not for a specific ethnicity."
PAAMEE and similar Summer Youth Programs open doors, showing students how to take lemons to batteries and ideas to reality.
"This is what I want to do, why not start now?" Washington says. "The DAPCEP program has helped me meet people—and when you meet people, they can help your ideas grow."
Michigan Technological University is a public research university founded in 1885 in Houghton, Michigan, and is home to more than 7,000 students from 55 countries around the world. Consistently ranked among the best universities in the country for return on investment, Michigan's flagship technological university offers more than 120 undergraduate and graduate degree programs in science and technology, engineering, computing, forestry, business and economics, health professions, humanities, mathematics, social sciences, and the arts. The rural campus is situated just miles from Lake Superior in Michigan's Upper Peninsula, offering year-round opportunities for outdoor adventure.