Perfect Timing: For Fabrizio Zanello, the Watchword is Patek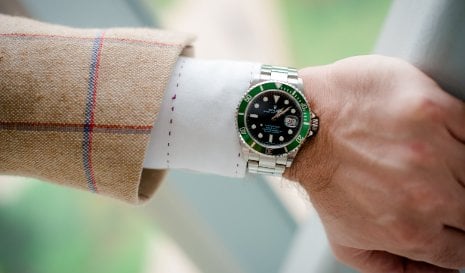 Six is a perfect number, as any mathematician knows. So it's fitting that Fabrizio Zanello's latest—and finest—Patek Philippe timepiece rounds out his collection to an even half dozen. For in the world of watches, Patek is as perfect as it gets.
Zanello, an associate professor of mathematical sciences at Michigan Technological University, has been collecting fine watches since 2005. As a mathematician, his lifelong love affair with numbers extends to the numerals on the handsome face of the everyday Rolex Submariner he wears to work to his latest acquisition: a 90,000-euro, limited-edition piece from Patek Philippe's 175th anniversary collection. You are not likely to find that on his wrist, however. Along with his other ultra-luxury watches, it spends most of its time in a safe, locked up in an undisclosed location.
Which is too bad, in a way, because it would be something to see. Artisans took months to craft the dial from dozens of slivers of wood. It replicates a 1914 postcard showing a summer afternoon on Lake Geneva, complete with sailboats and the lake's iconic fountain.
"They only made three or four of these," says Zanello.
You can't just buy a timeless timepiece like this off the rack. "Patek is the only company that doesn't have to convince you to buy their product," he says. "You have to convince them they should sell to you."
Not For Sale
And if you are fortunate enough to be selected, good luck flipping your rare Patek to make a quick buck. Each has a unique number, and if yours shows up on Ebay, well, don't expect the company to sell you another if you start having regrets.
"They have an office that checks the auctions, and if your watch is for sale, your name is crossed off," says Zanello, the proud owner of 5089G-020. The G stands for "gray," or white, gold, which he prefers for its subtlety.
To qualify him for the commemorative watch, Zanello's jeweler submitted his full curriculum vitae and proof that he was already a devoted collector. "It took me five previous Pateks," he says, "including a beautiful calendar watch with the sun rising."
Fine Swiss watches are not the only beautiful things he loves. In a T-shirt and jeans world, Zanello has style. He buys all his clothes back home in Italy and speaks knowledgeably about the best cashmere, made from the longest, finest strands of hair combed every spring from the undercoats of Mongolian goats. Under his desk is more footwear than most men have in their entire closet, including a to-die-for pair of black and white spectator shoes.
Milan, Paris Fashion Week
With such a wardrobe, it may seem that Zanello should be Michigan Tech's poster child for Milan Fashion Week; on this particular day, models a thousand miles away are striding up and down Italian runways, selling fancy clothes to even fancier people. But his appreciation for beauty goes back and far beyond what's trending on #MFW15, which concludes today, or Paris Fashion Week, #pfw, which begins Wednesday as the stylish spectacle ripples its way 'round the globe.
It started in elementary school. "I always cite my Montessori teacher, Vanda Mazzarello," he says. She showed him the beauty in his favorite subject. "Pure math is flawless," says Zanello. "I really like the certainty, the perfection it gives."
Years later, as a doctoral student at Queen's University in Canada, Zanello researched algebra; now he focuses on algebra and combinatorics--the art of counting--and has held appointments at MIT, Notre Dame, the University of Genoa and the Royal Institute of Technology in Sweden. Since coming to Michigan Tech in 2007, he has received his department's research award three times. And he sees his own passion and curiosity for math reflected in the innovation and craftsmanship underlying his watches.
"When you do research, you try to push the boundaries, and this is what horology does," he says. "Every time Patek makes a new watch, there is this reach for something better, something that pushes the science of time measurement forward. And that's what I do; I reach for the excellence, the beauty, the perfection that is at the center of pure mathematics."
Ironically, Patek watches, which are mechanical, fall short of perfection in one crucial area: telling time. "I have a crappy quartz watch that is many times more precise," Zanello notes. "But my Pateks are totally different. They are all made by hand, by a human, for a human. They are the marriage of science and art."
For more information on Fabrizio Zanello and his watches, see https://www.mtu.edu/math/department/faculty-staff/faculty/zanello.
------------
Michigan Technological University is a public research university founded in 1885 in Houghton, Michigan, and is home to more than 7,000 students from 55 countries around the world. Consistently ranked among the best universities in the country for return on investment, Michigan's flagship technological university offers more than 120 undergraduate and graduate degree programs in science and technology, engineering, computing, forestry, business and economics, health professions, humanities, mathematics, social sciences, and the arts. The rural campus is situated just miles from Lake Superior in Michigan's Upper Peninsula, offering year-round opportunities for outdoor adventure.