Black is the New Green: Biochar Beats Wood in Cook Stoves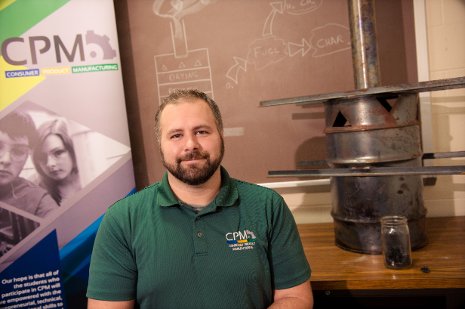 It's one of the world's biggest killers, leading to lung cancer, heart disease, and COPD, not to mention child pneumonia and low birth-weight babies. It affects billions of people. And if you think it's tobacco, you are wrong, but understandably so. The smoke from wood-fired cook stoves in the developing world is a best-kept secret in the pantheon of unhealthy things we humans inflict upon ourselves.
The solution is not simply a matter of telling women (for it is mostly women who cook) to find some other way to prepare the family meal. Alternatives to gathering your own wood are typically too expensive or simply nonexistent for subsistence farmers. However, that may soon change in the West African nation of Benin, thanks to a partnership between students at Michigan Technological University and the French firm AFI.
The key ingredient is biochar. If you've ever thrown a bucket of water on a campfire and returned the next morning to get it going again, you know about biochar: it's the black, charcoal-ish transition stage between burning wood and the pale ash left when the fire is completely burned out. But this simple, flammable form of carbon has a big advantage over wood: it's smokeless.
That's why Paul Hagadone is betting that biochar could be the next big thing in home cooking. "You can burn this without filling your home with smoke," says Hagadone, the president of the Consumer Product Manufacturing Enterprise. "It burns extremely hot with no fumes; it just glows red."
Wood makes great biochar, but burning up forests to make biochar for cooking is not a particularly green strategy. So the Enterprise is partnering with AFI to design a biochar manufacturing facility using leftover palm kernel shells as the feedstock.
"We are working on commercializing biochar in Benin on a large scale," Hagadone said. "They have huge deforestation problems, because of people cutting forests to use in their cookstoves. And the waste from the palm industry is perfect for turning into biochar."
Once the waste is cooked into biochar—a smoldering process called pyrolization—the AFI entrepreneurs plan to form it into briquettes and sell it at an affordable price. The Enterprise students have already built a small demonstration kiln for a project in South America and are now developing designs for an industrial-scale kiln. The project also involves designing a rail car that can transport the shells to the kiln and then bring the biochar to a briquetting machine and bagger. The facility will be located near a palm kernel oil–processing plant.
"The scale is pretty big," said Hagadone. "About 30 tons of waste a day to produce 10 tons of briquettes."
Because making biochar generates a lot of heat, the students are also looking into capturing that energy to run an onsite electrical plant to power the briquetting facility.
Pyrolizing waste and burning the resulting biochar does release greenhouse gases. But because the feedstock is renewable, there should be no net effect on climate, Hagadone said. And biochar is a great fuel, easier to use than charcoal in the backyard grill.
"You take a lighter to it, and it just burns into ash," he said. "It's neat stuff."
Michigan Technological University is a public research university founded in 1885 in Houghton, Michigan, and is home to more than 7,000 students from 55 countries around the world. Consistently ranked among the best universities in the country for return on investment, Michigan's flagship technological university offers more than 120 undergraduate and graduate degree programs in science and technology, engineering, computing, forestry, business and economics, health professions, humanities, mathematics, social sciences, and the arts. The rural campus is situated just miles from Lake Superior in Michigan's Upper Peninsula, offering year-round opportunities for outdoor adventure.