Michigan Tech Receives NSF Grant for Transmission Electron Microscope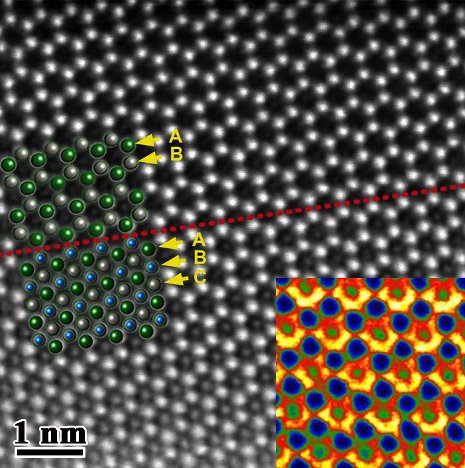 Michigan Technological University is well on its way to getting a $1.7 million, state-of-the-science transmission electron microscope (TEM), thanks to the National Science Foundation and a team of dedicated researchers led by Reza Shahbazian-Yassar.
"This will bring us to the forefront of electron microscopy," said Shahbazian-Yassar, the principal investigator on the project. The new TEM will not only give researchers the ability to study atomic structure, it will also identify chemical composition with sensitivity close to a single atom.
"Reza took the lead in pursuing the funding for this new instrument, and the team was successful over a lot of larger schools," said David Reed, vice president for research. "This is a real achievement for Michigan Tech, and it continues our history of outstanding capability in materials characterization and analysis. The TEM will complement our existing strengths and expand our capacity in new and exciting ways."
In approving his proposal, the NSF noted that the TEM would support a range of research projects at Michigan Tech—and make the scientists' jobs much easier. Currently, researchers must travel hundreds of miles to use TEMs at other institutions.
The TEM works by bombarding thin, specially prepared specimens with electrons, which image the atoms as they pass through. In addition, the microscope has a spectroscopy component, which will provide the precise chemical composition of atoms. For many researchers, including Shahbazian-Yassar, that's critical.
"My group is interested in resolving what's going on inside lithium-ion batteries, and this TEM will let us study the lithium-induced chemical composition as well as the atomic structure of battery electrodes," he said. "We are looking at lithium, and lithium is a very light element. At Michigan Tech, we've had no way to detect lithium, so we had to go to the University of Illinois at Chicago to conduct much of our research."
The cost of the TEM will be covered by $1.2 million from the NSF and about $500,000 in matching funds provided by the College of Engineering, the Department of Mechanical Engineering-Engineering Mechanics and the Office of the Vice President for Research.
"This is a significant accomplishment by Reza," said William Predebon, chair of the ME-EM department. "It's a state of the art instrument, unique in the region, and will be used by faculty across the University to do research at a scale that's only possible at a few other facilities in the country."
Dean of Engineering Wayne Pennington also expressed his support. "The College of Engineering is proud to be able to assist in the acquisition of the TEM; this equipment will help our advanced engineering researchers conduct state-of-the-art analysis of in-situ experiments with nanomaterials and biological structures," he said. "The potential for research spans all areas of engineering and the physical sciences, which is particularly aligned with the mission of our university. In addition, the faculty involved have agreed to provide an online learning approach to the use of such instrumentation, which may well benefit the larger community of scholars and researchers, particularly graduate students just entering the field, and they will involve undergraduates in the use of this instrumentation."
Michigan Tech will offer an advanced course on electron microscopy techniques, which will give graduate students and senior-level undergraduates hands-on experience with the microscope, Shahbazian-Yassar said. In addition, educational outreach activities can introduce K-12 students to electron microscopy and generate interest in the STEM disciplines.
"When I was a student, I would have loved to work with a microscope like this," said Shahbazian-Yassar. "I'm really happy that our students will have that opportunity."
The University will be negotiating with manufacturers to obtain the best possible equipment. The new TEM should be operational in early 2016.
Shahbazian-Yassar is the Richard and Elizabeth Henes Endowed Professor in Nanotechnology in the ME-EM department. Co-principal investigators on the project are Assistant Professor Tolou Shokuhfar (ME-EM), Associate Professor Claudio Mazzoleni (Physics), Professor Yoke Khin Yap (Physics) and Professor Stephen Hackney (MSE).
Michigan Technological University is a public research university founded in 1885 in Houghton, Michigan, and is home to more than 7,000 students from 55 countries around the world. Consistently ranked among the best universities in the country for return on investment, Michigan's flagship technological university offers more than 120 undergraduate and graduate degree programs in science and technology, engineering, computing, forestry, business and economics, health professions, humanities, mathematics, social sciences, and the arts. The rural campus is situated just miles from Lake Superior in Michigan's Upper Peninsula, offering year-round opportunities for outdoor adventure.