A Mystery Solved: 3 Wolves Drowned in Old Mine Shaft at Isle Royale National Park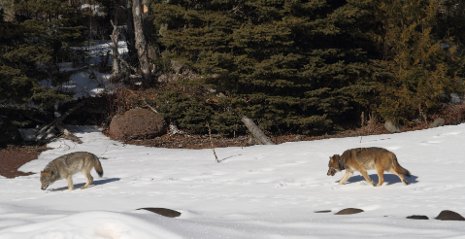 During their 2012 Winter Study, Michigan Technological University population biologist John Vucetich and wildlife ecologist Rolf Peterson started wondering where the wolves of Isle Royale National Park had gone. They only found nine wolves, and as far as they could tell, only one was a female. They expressed serious concern that the wolves of Isle Royale might be well on their way to extinction.
Now they know what happened to at least three of those wolves, one of them a young female, who likely would have contributed to the population's viability in the future.
In late May, National Park Service biologist Ted Gostomsk reported one or more animal carcasses floating in water in a deep, 19th century mine shaft at Isle Royale. With the aid of the Park Service, Peterson and his wife, Carolyn, went in to investigate. They recovered and examined what was left of the animals and then collected the bones..
"We found there had been a real catastrophe in early winter, before we arrived on the island in January," said Vucetich. "There were three dead wolves from the Chippewa Harbor Pack in the shaft: a collared male that we had been unable to locate this winter, an older male—maybe the alpha male—and a female born in 2011.
"We believe the incident occurred between mid-October and mid-January," Vucetich went on to say. "There is no way to know how the three wolves ended up falling into the pit, but very likely, accumulating snow and ice played a role in the accident.
The collared wolf was Romeo, whom the researchers could not locate during their 2012 Winter Study, although they picked up his collar signal briefly once or twice.
"We now understand a major reason for the decline in pack size of the Chippewa Harbor Pack in 2012, and perhaps why we saw such a desultory pattern of travel and low kill rate in this pack," Vucetich said. The pack seemed to have no "game plan" following the large loss of so many individuals, he explained.
The drowned female pup and the old male showed noticeable fat in their internal body organs, suggesting they were not suffering from a food shortage before they died. "This was true even for the old male, who had very heavily worn/broken teeth and a healed fracture in one femur that left one of his back legs 1.5 inches shorter than the other," the scientist noted.
Vucetich and Peterson point out that the young female was lost at a critical time in the wolves' history, when a shortage of females represents the largest extinction risk for the population. The researchers noted breeding activity in a pack of two animals during the 2012 winter study, and in the spring of 2012 found an additional female in the Chippewa pack. There were no signs of breeding with this female.
The National Park Service will be investigating potential safety issues associated with the historic mine shaft in which the wolves died. The mine shaft dates to the time of the Pittsburgh and Isle Royale Company, which operated in the Todd Harbor area between 1846 and 1853.
"This is not the first time we have been fortunate enough to learn about discrete events that have greatly influenced this population of wolves," stated Phyllis Green, park superintendent, referencing this event and the discovery of canine parvovirus, which caused the population decline of the early 1980s. "Random events often play a large role in isolated, island populations and although tragic, information from this event will serve to help us evaluate future management of this population."
Meanwhile, Peterson and Vucetich are cleaning the bones of the dead wolves and examining their spines—affected by inbreeding history—to collect some data about the animals. They will also be doing DNA analysis to determine or confirm the animals' age and prior history.
Supported by the National Park Service (NPS), the National Science Foundation (NSF), Michigan Tech, and numerous private donors and field volunteers, the wolf-moose study at Isle Royale National Park has been going on for more than 50 years, the longest continuous predator-prey study in the world.
Michigan Technological University is a public research university founded in 1885 in Houghton, Michigan, and is home to more than 7,000 students from 55 countries around the world. Consistently ranked among the best universities in the country for return on investment, Michigan's flagship technological university offers more than 120 undergraduate and graduate degree programs in science and technology, engineering, computing, forestry, business and economics, health professions, humanities, mathematics, social sciences, and the arts. The rural campus is situated just miles from Lake Superior in Michigan's Upper Peninsula, offering year-round opportunities for outdoor adventure.