Humans have been looking to the skies for hundreds of thousands of years. Now, we can actually reach them. From first flights, to Mars missions, to bringing light to the dark side of the moon, there's no end in sight for opportunities in aerospace engineering.
If you've set your sights on a career in aerospace engineering, here's what you need to know for a successful launch.
What is Aerospace Engineering?
Aerospace engineering is the discipline of engineering dedicated to designing, testing, and manufacturing aircraft, spacecraft, satellites, missiles, and related equipment and systems. The discipline is generally split into three distinct areas: aeronautical engineering, astronautical engineering, and avionics.
Aeronautical engineering (or aeronautics) pertains to air flight within Earth's atmosphere. This includes airplanes, helicopters, unmanned aerial systems (or drones), hot air balloons, blimps, ballistic vehicles, and any other atmospheric aircraft or airships.
Astronautical engineering (sometimes called astronautics or rocket science) pertains to space flight beyond Earth's atmosphere into outer space. This includes spaceships, satellites, launch vehicles, probes, and any other orbital or suborbital spacecraft.
Avionics pertains to the electronic systems used in air and space flight applications such as control systems, communications systems, navigation systems, display systems, and more.
What do Aerospace Engineers do?
Aerospace engineers develop new technologies for use in air and space flight for the purpose of transportation, communications, exploration, and defense. This involves designing, manufacturing, and testing aircraft, spacecraft, satellites, missiles, propulsion systems, and other aerospace products and components.
They often become experts in a related field such as aerodynamics, thermodynamics, materials, celestial mechanics, flight mechanics, propulsion, acoustics, or guidance and control systems.
Common job titles associated with the aerospace engineering field include:
Aerospace Engineer
Aeronautical Engineer
Astronautical Engineer
Avionics Engineer
Aircraft Designer
Spacecraft Designer
Data Processing Manager
Inspector and Compliance Officer
Mission or Payload Specialist
Flight Test Engineer
Mechanical Engineer
Electrical Engineer
Materials Engineer
Systems Engineer
What Skills do Aerospace Engineers Need?
Along with a passion for flight, successful aerospace engineers typically have at least a bachelor's degree in engineering or a related field and have a strong background in mathematics, physics, chemistry, and computer science.
Additional skills which may be beneficial include:
Analytical skills
Business skills
Critical-thinking skills
Problem-solving skills
Project management skills
Time management skills
Written and verbal communication skills
How do You Become an Aerospace Engineer?
There are several paths you can take to a career in aerospace engineering. However, most entry-level aerospace engineering positions require at least a bachelor's degree in engineering or a related field. Positions that are related to national defense may need a security clearance and a US citizenship may be required for certain types and levels of clearances.
If you're currently in high school or college and are considering becoming an aerospace engineer, here are some things to consider.
In High School . . .
Focus on your math and physics classes as these will form the basis for your aerospace engineering education. Your enjoyment (or not!) of these courses could tell you a lot about whether or not aerospace engineering is right for you.
Research colleges and universities that would put you on a successful path to aerospace engineering. It's not necessary to major in a program called aerospace engineering to have a successful career in this industry! Most importantly, make sure the schools you're considering are ABET accredited since most employers will only consider graduates from such institutions.
Visit the schools you're interested in and ask lots of questions about the program(s), scholarships and financial aid opportunities, and application requirements and deadlines.
Apply to the schools you think are the right fit for you and your goals sometime between your junior year and the beginning of your senior year. Don't miss those deadlines!
In College . . .
Work with your academic advisor to choose the appropriate program and courses that will give you the necessary knowledge and skills for a career in aerospace engineering.
Gain experiences in real aerospace engineering projects. Look for opportunities through student organizations, professional conferences, co-ops and internships, and research projects at your institution.
Form relationships with faculty members in your program. These connections will help you as you look for relevant aerospace engineering experience during and after your college career.
Network with professional aerospace engineers. Whether you're at a professional conference or an on-campus career fair, seize every opportunity to form connections with professionals in the field—you never know when they could come in handy!
Keep your resume up to date and brush up on your interviewing skills. Your institution may even have a dedicated career center that can help you.
---
Aerospace Engineering at Michigan Tech
At Michigan Tech, there is no shortage of opportunities for pursuing aerospace engineering. Our students are regularly hired by and contracted to work on real aerospace projects for big names in aviation, including NASA, the US Department of Defense, GE Aviation Systems, and more.
What makes Huskies strong aerospace engineers? Specialization. You won't find a major called aerospace engineering here—and that's on purpose. Time and time again, employers tell us that's not what they need. Instead, they need graduates who are experts in a particular discipline and can apply that knowledge to aerospace projects.
Our programs are designed for what the aerospace industry needs. Choose a major (like mechanical or electrical engineering, for example) and add an aerospace minor. Then, get involved in real aerospace projects through the Aerospace Enterprise, a Senior Design project, or Air Force ROTC—all while working in state-of-the-art labs. The sky's the limit.
Degree Programs
First, choose a major that can be applied to aerospace engineering and suits your own unique interests. Undergraduate degree programs commonly chosen include:
Then, add an aerospace minor:
Air Force ROTC
Gain valuable experience in military aerospace studies, earn scholarships to help pay for college, and graduate as a commissioned officer in the United States Air Force through Michigan Tech's Air Force Reserve Officer Training Corps (AFROTC) program. Established in 1946, our AFROTC Detachment 400 is one of 19 original detachments in the nation.
Enterprise
Aerospace Enterprise
The Aerospace Enterprise at Michigan Tech provides hands-on aerospace education and experience to undergraduate students. The team works together on innovative aerospace projects for real clients (including NASA and the Air Force Research Laboratory), with all members contributing toward specific project goals.
Aerospace Enterprise places an emphasis on space mission design and analysis, vehicle integration, systems engineering, and comprehensive ground testing and qualification.
The Oculus-ASR Microsatellite, one of the team's recent spacecraft projects, was launched aboard a SpaceX Falcon Heavy in 2019 to serve as an imaging calibration target for ground-based observatories tasked with characterizing spacecraft.
Multiplanetary INnovation Enterprise (MINE)
The Multiplanetary INnovation Enterprise (MINE) guides students through three hands-on projects:
NASA Lunabotics competition
a trencher research team for testing excavation in our vacuum chamber
an underwater mine mapping robot
Senior Design
Senior Design at Michigan Tech is more than just an assignment to finalize your engineering degree. Connect with industry through real industrial projects and gain the skills and experience that can launch you into a successful aerospace engineering career. Recently, senior design students at Michigan Tech have designed a lunar rover for NASA, engineered a space debris mitigation drone, and developed a faster machining process for aviation components.
Watch Aerospace Enterprise video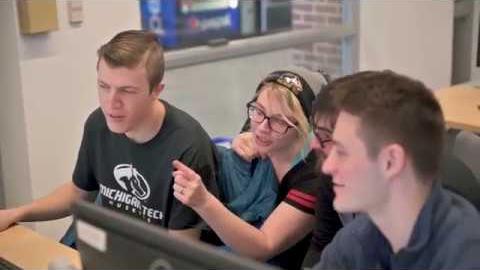 Aerospace Enterprise
We caught up with the Aerospace Enterprise as they work on two satellites, Auris and Stratus, and prepare to present at the Michigan Tech Design Expo.