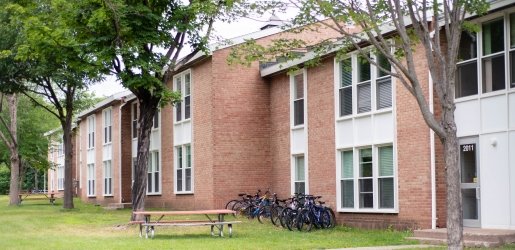 Daniell Heights Renovation
Read about the 2015-2019 renovations
Hello Residents: Renovations to Daniell Heights are now complete! Renovations include new carpet, new kitchen appliances, improved bathrooms, new paint, and new furniture.
All apartments in Daniell Heights were renovated between 2015 and 2019. Renovations started in lower Daniell Heights and moved to upper Daniell Heights. We hope you are as excited about these improvements as we are.
Roof replacement has been an ongoing improvement in Daniell Heights. We are currently installing new roofs on the odd numbered buildings in the 1800 block. This is the final phase of this project and will be complete October 2019.
Important Information
Welcome to the Daniell Heights apartments on the Michigan Tech campus. Many graduate students, married students, students with children, and students over the age of 21 call Daniell Heights home.
Located in the 1800, 1900, 2000, an 2100 blocks of Woodmar Drive, Daniell Heights provides one, two, and three bedroom apartments. Utilities such as cable, internet, heat, refuse, sewer, and electricity are included in your monthly rent. Laundry rooms are located within each building for common use.
Furnishings
The apartments in Daniell Heights are semi-furnished. Adding your additional furniture to the provided furnishings will help you make your apartment your home. New contract holders may expect to find in each bedroom: one bed, one desk, one chair, and one set of drawers. One bedroom apartments also have a couch, an end table and stools for countertop dining. Two bedroom apartments also have a couch, a soft chair, an end table, and a table with chairs for dining.
Tenant Additions and Removal
Contract holders are allowed to add tenants to their apartments. To add or remove a cotenant, please use this form. The Graduate Student Government recommends contract holders and tenants create an agreement so that clear expectations are created.
Meal Plan
Meal plans are not required for residents who live in Daniell Heights. If you are interested in exploring your on-campus meal plan options, please visit Dining Services.
Parking
Parking is available for a fee on Woodmar Drive. Every vehicle parked on-campus is required to have a parking permit. Please contact Transportation Services located in the Administration Building Room 100 for more information.
Storage
Storage is available to contract holders in Daniell Heights for a fee. Storage units are available within many of the apartment buildings. Please contact housing@mtu.edu if you wish to arrange for a storage unit.