Enterprise is ready to use our strengths—rapid prototyping, open-source solutions, and multidisciplinary teams—to join the fight against COVID-19.
After a lively round of voting, the shared air filtration system won with 30% of the votes. The Consumer Product Manufacturing (CPM) Enterprise has been selected to helm the project. Read more about their plans for the HVAC project.
The CPM team is very excited to start pursuing this project, but the team still needs your financial support, says Rick Berkey, Dirtector of the Enterprise Program. "The team currently has enough funding to start purchasing preliminary materials, but your continued donations will help them build a complete prototype, and perhaps even allow for full testing of the developed system." Funding received beyond the cost of the safer HVAC project will be applied to additional student projects.
Donate now to support the HVAC project, or contact Rick Berkey if you'd like to fund additional Enterprise projects.
The Proposed Projects
WINNER: Shared Air Filtration
Problem: Evidence suggests that transmission of the COVID-19 virus increases as fresh air decreases—indoor spaces with standard HVAC systems can be riskier than the outdoors or hospital-grade HVAC filtering.
Proposal: Create an affordable proof-of-concept solution for large and small indoor spaces to improve air quality and reduce risk of disease spread. This system may employ filtration techniques, UV light, or other technologies vetted by external researchers and/or the CDC.
Who could benefit: Businesses and organizations in enclosed spaces, such as stores, office spaces, grocers, theaters, and churches.
RUNNER-UP: Virus-Resistant Material Applications
Problem: Viruses and bacteria can remain active on surfaces for hours. Keeping shared surfaces like door handles, elevator buttons, railings, etc. sanitary 100% of the time through administrative controls like a cleaning staff is less effective than materials that actively kill bacteria and viruses.
Proposal: Develop materials and coatings that will reduce the spread of the virus.
Who could benefit: Public and private facilities that have common spaces with door handles, elevator buttons, hand railings, etc.
Technology-Enabled Physical Distancing
Problem: Physical distancing lessens the spread of infectious disease, but it can be hard to implement as peoples' schedules are unpredictable.
Proposal: A device or app that may alert users when they're standing too close for safe physical distancing, track and rate their distancing skills throughout the day, or give a preview of the number of people in a certain location to help the user plan ahead.
Who could benefit: People who would like to access grocery stores, parks, or restaurants during off-peak periods, when off-peak periods are tough to predict. People in environments where it's easy to drift away from proper physical distancing standards, like in a laboratory, family gathering, or a larger group.
Small-Scale Decontamination Unit
Problem: Individuals and small businesses may have the same need to decontaminate PPE and other products as hospitals and large-scale industries, but may not have access to large-scale decontamination systems.
Proposal: A personal- or family-sized device modeled after large-scale PPE decontamination units.
Who could benefit: Individuals, families, and small businesses who have PPE, groceries, clothing, or other objects that need to be decontaminated.
Open-Source Home Care
Problem: The majority of COVID-19 patients will convalesce at home. However, many cases where hospitalization isn't required still aren't easy. At-home patients and their caregivers may benefit from medical-style equipment like specialized beds, bathing, lifting assistance, etc, but the stock of such equipment may be depleted by regional outbreaks.
Proposal: Open-source designs for home care to improve comfort and outcomes for symptomatic patients quarantined at home. Designs could be built by individuals or local/regional manufacturers who can match their production specialty to a market need.
Who could benefit: Patients and families involved with home care. Health care systems, as better home care could mean fewer hospitalizations.
Building a Better Mask
Problem: Universal mask adoption has been shown to reduce the spread of COVID-19, but some people find masks uncomfortable.
Proposal: Students will review home- and medical-grade masks designs, identify current problems, and prototype open-source solutions to make masks more wearable. More comfortable masks could mean better adoption and usage, bringing the transmission rate down.
Who could benefit: Anyone who finds their current masks uncomfortable.
Touch-Free Delivery
Problem: At-home delivery can keep people with COVID-19 risk factors out of the stores and safer. However, the delivery person is potentially a point of failure—a presymptomatic or asymptomatic Meals on Wheels driver, for example, could spread the virus to vulnerable clients.
Proposal: A robot or autonomous device to move meals and packages from carrier to receiver while maintaining physical distance. Touch-free delivery could lower the spread of disease and keep both the delivery person and the recipient safer.
Who could benefit: Delivery workers, Meals on Wheels, waitstaff.
More Information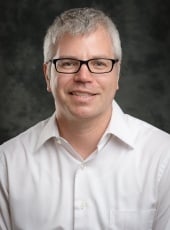 Richard Berkey
Adjunct Instructor, Manufacturing and Mechanical Engineering Technology
Advisor, Supermileage Systems Enterprise