Jared D. Wolfe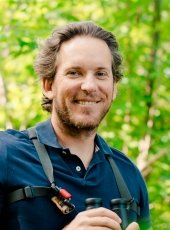 Contact
906-487-3608
Noblet Building
Ph.D. Wildlife Biology, Louisiana State University
M.S. Wildlife Biology, Humboldt State University
B.S. Vertebrate Ecology, Humboldt State University
Biography
Integrating wildlife conservation into sustainable forest stewardship
In our rapidly changing world, the integration of wildlife conservation into sustainable forest stewardship represents an important, yet daunting challenge. To identify those species and communities in need of conservation action, I study the response of temperate and tropical forest-dwelling wildlife to environmental change through experimentation and long-term monitoring, and demographic modeling. In addition to applied wildlife conservation and management, I study bird molt, an understudied yet critical phase of the avian lifecycle. Specifically, I assess how selective pressures influenced avian molt strategies in temperate and tropical systems.
Links of Interest
Fields of Expertise
Wildlife conservation in working landscapes
Temperate and tropical avian ecology
Demographic modeling
Avian molts and plumage
Wolfe, J. D., P. C. Stouffer, R. O. Bierregaard, Jr., D. Luther and T. E. Lovejoy. 2020. Effects of a regenerating matrix on the survival of birds in tropical forest fragments. Avian Research 11(8). https://doi.org/10.1186/s40657-020-00193-x.

Wolfe, J. D. and P. Elizondo. 2020. Integrating bird conservation into ecosystem service payments and carbon offsets: a case study from Costa Rica. Conservation Science and practice doi.org/10.1111/csp2.173.

Long, L. and J. D. Wolfe. 2019. A Review the Science Directly Related to the Effects of Barred Owls (Strix varia) on Spotted Owls (Strix occidentalis). Journal of Wildlife Management 83:1281-1296.
Wolfe, J. D., J. D. Alexander, J. L. Stephens, and C. J. Ralph. 2019. A novel approach to understanding bird communities using informed diversity estimates at local and regional scales in northern California and southern Oregon. Ecology and Evolution 9:4431–4442.
Rutt, C., S. Midway, V. Jirinec, J. D. Wolfe and P. C. Stouffer. 2018. Examining the microclimate hypothesis in Amazonian birds: Indirect tests of the 'visual constraints' mechanism. Oikos 128:798-810.
Ralph C. J., and J. D. Wolfe. 2018. Factors affecting the distribution and abundance of autumn vagrant warblers in northwestern California and southern Oregon. PeerJ. 6: e5881

Johnson, E. I. and J. D. Wolfe. 2017. Molt in Neotropical Birds: Life History and Aging Criteria. Studies in Avian Biology, CRC Press, Taylor and Francis Group, Boca Raton, Florida.

Wolfe, J. D., C. J. Ralph and A. K. Wiegardt. 2017. Bottom-up processes influence the demography and life-cycle phenology of Hawaiian bird communities. Ecology 98:2885-2899.

Wiegardt, K. A., J. D. Wolfe, C. J. Ralph, J. L. Stephens and J. D. Alexander. 2017. Elevational movements of songbirds after the breeding season. Journal of Ecology and Evolution 7:7750-7764.

West, C., J. D. Wolfe, A. K. Wiegardt and T. Williams-Claussen. 2017. Feasibility of California Condor recovery in northern California: assessing spatial and temporal patterns of contaminants using Surrogate species. Condor 119: 720-731. Cooper, J., O. Johnson, T. Davis, R. Terrill, K. Brzeski., J. D. Wolfe, A. Etingüe* and L. Powell. 2017. Notes on the distribution of the avifauna of Bioko Island, Equatorial Guinea, with one new country record. Malimbus 39:1-15.

Wiegardt, K. A., D. C. Barton and J. D. Wolfe. 2017. Upslope molt migration of the Wilson's Warbler in the Klamath-Siskiyou Bioregion. Journal of Ornithology 88:47-52.