Evan S. Kane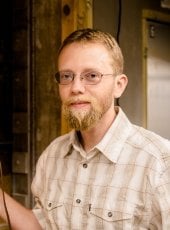 "If trees could run away from their place of establishment, believe me many of them probably would!"
Contact
906-482-6303
Forest Service Building 123
PhD, Interdisciplinary Forest Ecology, University of Alaska Fairbanks
MS, Forestry, Michigan Technological University
BS, Ecology and Environmental Science, Michigan Technological University
Belowground Processes
I am broadly interested in nutrient dynamics in terrestrial and aquatic ecosystems, particularly in "hotspots" of soil carbon storage. As such, research has focused on belowground changes in northern peatlands, boreal ecosystems, and temperate forests, and the corresponding changes in dissolved chemistry. Ecosystem change is a pretty relative concept, but study designs incorporating experimental manipulation or natural disturbances can be particularly persuasive in learning an ecosystem's secrets.
Natural disturbances offer great opportunities to determine how ecosystems reorganize, and wildfires in particular can dramatically alter how long carbon can stay in above and belowground components of an ecosystem. Besides, getting outside and seeing first-hand how disturbances such as flooding or wildfire have altered the functioning of an ecosystem is just really exciting!
Areas of Expertise
Soil carbon
Plant/soil relationships
Decomposition
Dissolved organic carbon
Wildfire
Black carbon
Krause L, McCullough KJ, Kane ES, Kolka RK, Chimner RA, Lilleskov EA. 2021. Impacts of historical ditching on peat volume and carbon in northern Minnesota USA peatlands. Journal of Environmental Management, https://doi.org/10.1016/j.jenvman.2021.113090.
Albano LJ, Turetsky MR, Mack MC, Kane ES. 2021. Deep roots of Carex aquatilis have greater ammonium uptake capacity than shallow roots in peatlands following permafrost thaw. Plant and Soil, https://doi.org/10.1007/s11104-021-04978-x.
Rupp DL, Lamit LJ, Techtmann SM, Kane ES, Lilleskov EA, Turetsky MR. 2021. The rhizosphere responds: rich fen peat and root microbial ecology after long-term water table manipulation. Applied and Environmental Microbiology, DOI: 10.1128/AEM.00241-21.
Richard RP, Kane ES, Bronson DR, MacLean AL, Kolka RK. 2021. Plant communities and landform relationships delineate components of soil complexes subject to whole‐tree harvest restriction. Soil Science Society of America Journal, https://doi.org/10.1002/saj2.20234.
Kane ES, Dieleman CM, *Rupp D, Wyatt KH, Rober AR, Turetsky MR. 2021. Consequences of Increased Variation in Peatland Hydrology for Carbon Storage: Legacy Effects of Drought and Flood in a Boreal Fen Ecosystem. Frontiers in Earth Science, https://doi.org/10.3389/feart.2020.577746.
Walker XJ, Rogers BM, Veraverbeke S, Johnstone JF, Baltzer JL, Barrett K, Bourgeau-Chavez L, Day NJ, de Groot WJ, Dieleman CM, Goetz S, Hoy E, Jenkins LK, Kane ES, Parisien M-A, Potter S, Schuur EAG, Turetsky M, Whitman E, Mack M. 2020. Fuel availability not fire weather controls boreal wildfire severity and carbon emissions. Nature- Climate Change, https://doi.org/10.1038/s41558-020-00920-8.
Meingast KM, Kane ES, Coble AA, Marcarelli AM, Toczydlowski D. 2020. Climate, snowmelt dynamics and atmospheric deposition interact to control dissolved organic carbon export from a northern forest stream over 26 years. Environmental Research Letters https://iopscience.iop.org/article/10.1088/1748-9326/ab9c4e.
Walker XJ, Baltzer JL, Bourgeau-Chavez L, Day NJ, Dieleman CM, Johnstone JF, Kane ES, Rogers BM, Turetsky MR, Veraverbeke S, Mack MC. 2020. Patterns of Ecosystem Structure and Wildfire Carbon Combustion Across Six Ecoregions of the North American Boreal Forest. Frontiers in Forests and Global Change, https://doi.org/10.3389/ffgc.2020.00087.
Euskirchen ES, Kane ES, Edgar CW, Turetsky MR. 2020. When the Source of Flooding Matters: Divergent Responses in Carbon Fluxes in an Alaskan Rich Fen to Two Types of Inundation. Ecosystems, https://doi.org/10.1007/s10021-019-00460-z.