Outside the box. Our faculty pursue diverse, cutting-edge research. The Department of Cognitive and Learning Sciences (CLS) is couched between applied cognitive science and real-world applications in education, technology, and science. We use a variety of techniques from interactive design, experiments, surveys, ethnography, field studies, and formal computational modeling. Our students and faculty improve performance, health, decisions, and safety where people interact with technology or systems. This research can be difficult to do, but we embrace challenge.
In addition to our labs, we have several key interdisciplinary research centers across campus that support CLS research at the intersections of science, technology, education, and human factors.
Join us! Opt in for research and get involved!
Student Researcher Spotlight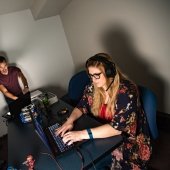 Katy Roose
PhD Student, ACSHF
Seventy percent of Michigan Tech students report playing video games casually (during the summer!). Roose is examining the effect of problem solving in video games on STEM problem solving. The broad application are strategies integrate informal learning opportunities into higher education.
Jason Sterkenberg
PhD Student, ACSHF
Studies methods to develop eyes-free gesturing and is conducting studies in the Michigan Tech driving simulator.
Madeline Peabody
Masters Graduate '17, ACSHF
Conducted some of the first empirical studies of a light-weight structured analytic technique for planning in operational teams. When Michigan Tech ROTC teams used this technique on the obstacle course, their plans were more resilient and they noticed problems earlier. This research has implications for teams in a variety of operational settings from medicine to engineering, from military to software development.
James Henderson
Masters Student, ACSHF
A Michigan Tech football player, is studying methods for evaluating expertise in running-back decision making.
Steven Landry
PhD Student, ACSHF
Developing tools and processes to sonify dance. His collaboratively developed tools were used by dancers to design music based on their real-time movements.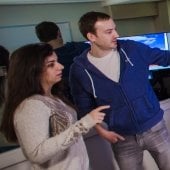 Seyedeh Maryam Fakr
PhD Student, ACSHF
Examining the impact of emotion on driving behavior.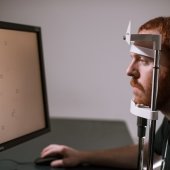 Dave Schreifels
Masters Student, ACSHF
Examining the visual pop out effect in naturalistic environments. This research has direct implications for design in real world, cluttered environments and augmented reality.
Our research labs and groups reflect the interdisciplinary nature of the Department of Cognitive and Learning Sciences. They provide the capacity for basic theories in human cognition: learning, emotion, decision making, memory, and attention--to a wide variety of human and technology interactions.
Bi-weekly presentations by Michigan Tech researchers and guest speakers in the areas of human factors and applied cognitive science.