The Harold Meese Center—home to the Department of Cognitive and Learning Sciences—is located on Houghton Avenue, just a short walk from the core of the Michigan Tech campus. The Meese Center unites the activities of the CLS community under one roof, providing a total of 15,000 square feet dedicated to departmental offices, classrooms, and lab space. The entire ground floor supports the research efforts of faculty and graduate students in the areas of applied cognitive science, human factors, and human performance.
Recent renovations have included the addition of two technology-rich classrooms, six offices, and an atrium; the transformation of the ground floor into lab facilities; and the updating of carpeting, furnishings, paint, and signage.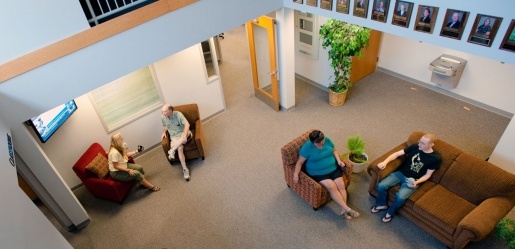 The Meese Center's unique location and inviting atmosphere foster a strong sense of collegiality.
Directions to the Meese Center
Walking
We are located on the south side of US Highway 41 (College Avenue), one block south of the Administration Building on the corner of Houghton Avenue and Pearl Street.
Driving
Heading North on US Highway 41, turn left onto Pearl Street just past Flagstar Bank. We are on the left side of the street, on the corner of Houghton Avenue and Pearl Street. Visitors may park on Houghton Avenue or in our parking lot. If you park in our lot, please immediately visit Breanne Carne in Meese 111 for a visitor parking pass.
Laboratory/Research Equipment
Our state-of-the-art research facilities, located on the ground floor of the Meese Center, are equipped with innovative equipment, including
a usability suite;
a video-based simulation system;
a driving simulator;
a law-enforcement shooting simulator;
eye-movement and motion tracking systems; and
physiological measurement equipment.
Classrooms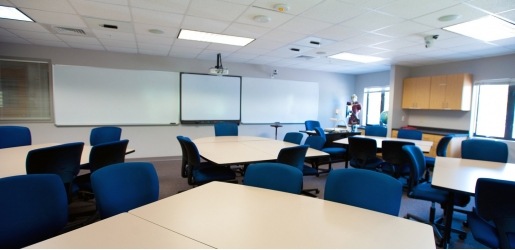 The Meese Center features two modern classrooms offering a full suite of technological tools to enhance instruction:
Meese 109
Smart Board
Presentation Technology
Videoconferencing system
Mac Laptop System
iPads
Wireless Internet Access
A Printer
Meese 110
Presentation Technology
Echo360 Lecture-Capture system
Windows Laptop System
Wireless Internet Access