Student-athletes play an important role in the Michigan Tech College of Business (COB), with nearly 20 percent of all athletes on campus studying a business major. Our Huskies know how to focus on goals in class and on the court, field, track, and ice. And, business student-athletes still find time to prioritize other life-changing experiences including internships, co-ops, study abroad, and more.
Our academic advisor works closely with athletics office staff and coaches to provide the unique support athletes need. In addition, COB faculty proudly cheer on MTU Athletics—many are season ticket holders!
Average GPA

Dean's List

Graduation Success Rate
Vitor Jordao: Engineering Management Student and Tennis
Husky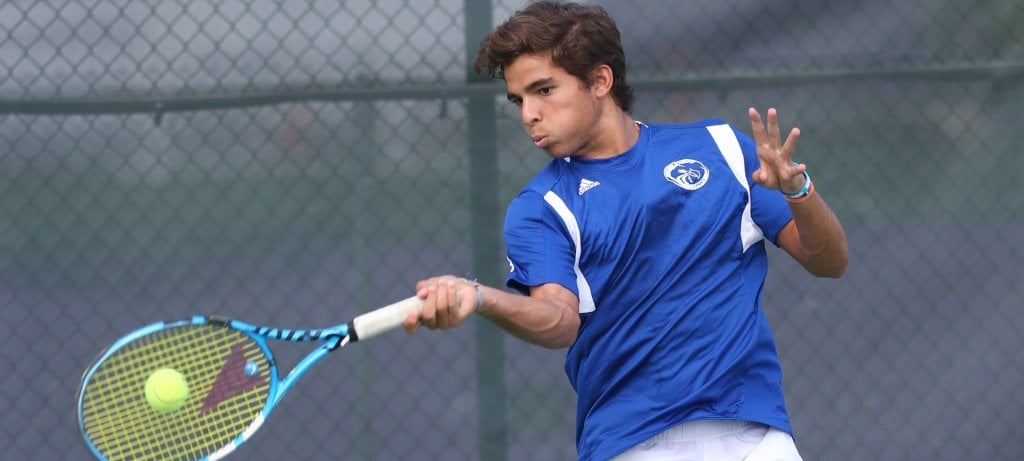 I am from Brasil, the warm and sunny country with a climate completely different from that of Michigan. You may wonder why I chose to come to a place known for its snow. The answer is quite simple.
Since I was 12 years old and starting to take the sport of tennis seriously, I have wanted to come to the United States to pursue a high-quality education on an academic and athletic scholarship, so that I could earn a degree while playing the sport I love. Today, I can say I accomplished that because I chose Michigan Tech, a place where I have the support to succeed in all aspects of my college career.
"Eu me chamo Vitor e venho do Brasil."


Life as a student-athlete has not been as easy as I thought it would be—especially having to wake up early to practice and going to bed late to catch up on classes that I missed while traveling with the team. Eventually, the demands became routine to me, as well as doing homework in the backseat of a bus on the way to a game.
The distance from my family and my culture has also been a challenge. Not being able to see my parents or my sister is tough at times, but the community at Michigan Tech—my coach, professors, teammates, and friends—have been supportive and I am happy about how this life that I chose for myself is working out.
Now, all I have to do is keep working hard over the next few years, keep up the good results both in class and on the court, and, as we say in my country, "collect the fruits" of all of it in the end.
Michigan Technological University is a public research university founded in 1885 in Houghton, Michigan, and is home to more than 7,000 students from 55 countries around the world. Consistently ranked among the best universities in the country for return on investment, Michigan's flagship technological university offers more than 120 undergraduate and graduate degree programs in science and technology, engineering, computing, forestry, business and economics, health professions, humanities, mathematics, social sciences, and the arts. The rural campus is situated just miles from Lake Superior in Michigan's Upper Peninsula, offering year-round opportunities for outdoor adventure.